Are you an entrepreneur who wants to relocate in Costa Rica? Many of you have ideas of what you would like to do but you don't know if it is feasible. Do you buy a well-priced piece of real estate then develop it to your liking? Or, do you buy a turnkey business in one of the small towns of the Southern Pacific Zone (SPZ)? Those are two questions The Guys In The Zone are asked often, and I thought I would shed a little light on the possibilities.
Buy land, build structure, announce grand opening.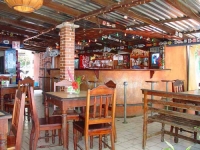 Relocators who lean toward the Buy & Build model are the most common brand of investor. Rarely, does the building process go perfectly smooth especially if you are a "first timer" in Costa Rica. Even with a good contractor, we encourage most owners to be on-site often. In fact, the more you can be there to answer questions and provide direction, the better. There's nothing worse than flying down to check on the status of your building only to discover the size of your custom kitchen and bathroom have been interchanged?! If you follow this advice and move down to oversee the building process, then there are the obvious costs associated with living here (rent, bills, food, gas, etc.). However, this increases your chances to end up with the small (or large) business you always dreamed of. I have attended a few "Grand Openings" in the past few years, and most owners smile with pride, albeit with a touch of fatigue.
Most of our commercial land sellers are open to negotiating price and/or carrying paper (seller financing) as long as there is a significant down payment. Currently, we have excellent "raw land" properties that can accommodate businesses ranging from a small hotel-restaurant and one of the best "large commercial" pieces on the Costanera.
Or, buy a landmark!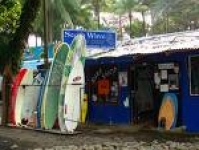 Until just recently there were very few businesses to buy in the SPZ. Over the past five years, the ticos and early bird gringos have successfully built and grown their respective operations. If you gauge our commercial development against areas like Jaco and the beach towns of Guanacaste, we are still in the early stages of growth.
According to ICT (Department of Tourism), Costa Rica received 1.9 million tourists in 2007, an 11.7% increase over 2006. Despite the recent economic slow down, tourist numbers are expected to increase by between 6%-8% in 2008 (official numbers will be released shortly). Safe to say, more and more tourists are visiting Costa Rica, specifically Dominical, Uvita, and Ojochal. Many of them fall in love with this area, then buy a piece to build on prepping for their future retirement. It is understandable given the many unique benefits— abundant fresh water, lush mountains filled with wildlife, good property values and headroom for investment growth.
Thanks, in part, to the bumpy dirt road between Quepos and Dominical (reportedly, ready to begin paving in 2009), the SPZ of Costa Rica still has a small town feel with relatively small businesses. These businesses range from simple gift shops to hotel-restaurants to full-fledged eco-retreats. If buying an existing restaurant or commercial space makes more sense, then you are in luck! We have a great new listing called "The Corners" which includes— 5 rent-able rooms, restaurant, dining area, laundry room, secure storage rooms, and a 2nd floor apartment to oversee your operation, and it's all newly constructed. For those who have a larger vision (and budget) the ocean view, eco-retreat Mar Y Selva may be your ticket— 10 bungalows each with a balcony, a/c or fan, wireless internet— restaurant, lounge, semi-Olympic pool and, of course, the sunset ocean views. With eco-tourism and land values on the rise, these are a great opportunities.
If you build it, they will come.
Finally, we often get the question "What businesses does the area need?" Although most hotels are doing well, with tourism on the rise, additional accommodations (especially at high and low end price points) should be in demand. The most obvious thing missing to me is a lack of culinary variety. A good (emphasis intended) Chinese food restaurant would do well with locals, including ticos who seem to love chop suey and noodles. It is my feeling that a health-conscious sandwich shop would take off here in Uvita, as there are just some days you don't feel like beans and rice! The ticos are futbol (soccer) crazy here, and a sporting goods store would probably do well. There are no surf shops south of Dominical, yet there are at least 5 good surf breaks and plenty of riders in the water. Finally, (and I've been told this more than once) a shoe store would do extremely well as long as it carries a variety of women's shoes, sandals and running shoes.
So, as you can see…. there is an abundance of business opportunity down here in the Southern Pacific Zone of Costa Rica. Buy an existing turnkey business or a nice piece of real estate and build your dream. Who knows, you may even create your own landmark!