Answer: 98%.  The Question… what percentage of people first visit Costa Rica as tourists before buying their own piece of paradise?
Costa Rica is attractive as a vacation spot, for retirement and investment, especially in this "buyer's market." In particular, the Southern Pacific Zone (and I'm talking about the area south from Quepos to Palmar) has a number a factors that set it apart from the rest of Costa Rica—the mountains-to-the-sea geography, sunset ocean views, the verdant jungles, and the protected habitats. In addition, up and down this coastal region, resident Ticos and foreigners from all parts of the world enjoy a "small town" community feel.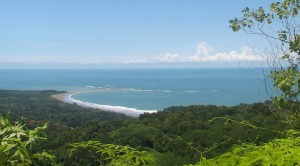 For those who haven't been down to The Zone (as we like to call it), there are small differences between the small towns in this area–
DOMINICAL—  Many of the visitors who choose Dominical as a home base are surfers or other people who want to be within walking distance to the beach.
UVITA—  Those who choose Uvita have either already explored Dominical or want to be close to the famous Whale's Tail and boat launch for whale and dolphin tours, snorkeling and scuba diving adventures.  Simply put, the magical nature of these activities brings people back, year after year, in increasing numbers.
OJOCHAL—  Located 15 minutes south of Uvita, Ojochal is one of the more established expat communities.  Originally, the coastal road only came as far north as Ojochal, hence the pre-Costanera wave of development starting in the late 90's.  It is known as the multi-cultural hub of The Zone and home to an amazing array of culinary options.
The Zone has received a flood of publicity over the past four to five years.  Heralded as one of the world's eco-tourism hot spots, most tourists come to our area excited by the likelihood of seeing exotic animals up close and personal.  In fact, groups of monkeys and toucans make daily visits to our property and most of the eco-hotels in the region.
Boom Markets
Another reason for the area's popularity, one we have written about extensively, is access — the completed Coastal Highway, the improved road from San Isidro, and the proposed International Airport in the Palmar/Sierpe area 40 minutes south of Uvita.  According to the Instituto Costarricense de Turismo, tourism is up 9.6 percent for the first half of this year compared with 2009.[1] Perhaps the stimulus package in the U.S. and Europe is working?  (That was a joke.)
We only need to look at the effect of the new international airport in the Guanacaste region—131,295 tourist arrivals in the first half of 2010[2]— to understand why tourists, retirees and investors flocked there.  Thanks to the ardent publicity of television, print, and web advertising (e.g., International Living Magazine), there was a tourism and real estate boom in the first part of this decade.  The first part of 2010 is no different, as activity is up in this buyer's market.
The Painful 2%
As for the two percent of property buyers left out of the original answer (in fact, they are the group who sparked this article), there are actually foreign investors who buy property sight-unseen.  Just in case you are not familiar with the term, it means buying land without physically seeing what you are buying.  This often happens when prospective buyers attend marketing seminars that pitch only one or two specific developments in an area.  The simple reason for this is… these marketing specialists are often The Developer!   They lure prospective investors to Costa Rica with attractive incentives like "fly and buy" programs, where discounts are applied to immediate land purchases.
There are potential problems with following this developer's path to your future paradise.  Here's a common scenario; you finally arrive at the small, regional airport in Costa Rica.  You meet your bilingual feet-on-the-ground sales agent/tour guide/driver.  He explains you have a full and exciting week ahead—dinners, outdoor activities, and multiple tours of the developments— so full and exciting that you never really have time to look around and get an objective view on land values and investment opportunities.
BEWARE… their bottom line is to sell you property in their developments.  I can't tell you how many "seminar buyers" (most of whom are from Canada?) come to us after the fact and are shocked at the real market value of their land… and this was when the market was still strong.
Pure Brokering
There is a simple way to avoid this investment pitfall.  Most of the real estate agencies in the area offer what we "Guys" like to call: pure brokering.  I use the word "pure" to indicate what Ben & I like to do.  I guess you could say, it's the Guys In The Zone style.  First and foremost on our agenda is: "find you the most ideal property that fits your objectives" – pure brokering.
People ask us daily how the market is doing, and if you've been tuning into our Talk Shows for the past couple of years you know the market here has reflected the global market's trend downward.  Markets go up and down… that's just a fact of life wherever you are.  Ask any of the real estate companies in the area, activity is up… and this is typically our slow season.  It feels like we have hit the bottom, and this high season (Dec-Feb) is expected to live up to its name.
There are a variety of factors that make The Zone an attractive place to vacation, invest, and eventually retire.  And let me tell you, the only thing better than watching a flock of toucans hopping in the trees… is when you are watching a flock of toucans hopping the trees on your own property.
---
[1]
http://www.amcostarica.com/thursday.htm
[2] http://www2.prensalibre.cr/pl/la_economia/28972-ingreso-de-turistas-aumento-un-96-en-primer-semestre-del-ano.html