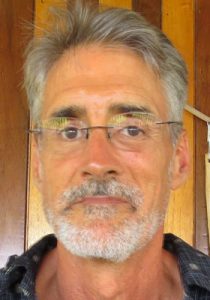 "Guys in the Zone" is this blog. It is also the name of my company and I am a real estate agent in Costa Rica. My company works very happily under the prodigious umbrella of Blue Zone Realty, an excellent brokerage of properties in Costa Rica's southern Pacific zone. We service from Parrita to the north down to The Osa Peninsula and on down to the Panama border with select properties.

I am Ben. I have lived in Costa Rica since 1999. I formed and ran a real estate company in Dominical for several years, and then went off on my own, forming Guys In The Zone Real Estate.
After some time, Rod "Tigre" Martin entered the scene. We worked together for a number of years and then decided to close our office due to some health concerns on my part. Over the years of working together, Rod & I have passed through many of life's experiences. We have forged a friendship that goes beyond business. So, we're good – for those of you that were wondering :o). If you are the reading type, and have an interest in the lives of other people, I've got a rather fluid and lengthy version of my time here in Costa Rica. You can read it by clicking here.
During my off-time, I continued to keep a pulse on the market and to receive positive feedback from people, some of whom would tell me that they "read the whole thing". I find this a bit hard to believe as there is a lot here, but I've heard it enough that it may actually be true.
We did a video Talk Show series that can still be seen in part on YouTube – Click here to view. I am interested in firing these back up. We'll see…
The articles on this web site are a result of a passion for writing and sharing. The great feedback that I get from readers of how these articles have helped them to make their investment in land here in Costa Rica's southern zone. The Guys in the Zone blog continues on as a source of information for anyone interested in knowing what life is like here in Costa Rica's southern Pacific zone, and still with an emphasis on real estate, but also news and just life-in-general information.
About Blue Zone International:
I was attracted to Blue Zone in mid-2017 and have not looked back. Blue Zone is the brain-child of internationally certified real estate broker Tim Fenton. The "attraction" process took some time and went through some fun permutations as he and I did the mating dance of the prospective business associates.
Blue Zone is affiliated with Leading Real Estate Companies of the world. Frankly, I had never heard of this entity prior to meeting Tim. It is a non-franchised, international network of vetted real estate professionals. It turns out, it is the biggest and most productive of the various real estate networks globally.
I found Tim's demanding professionalism to be quite appealing. It is time. He has introduced the concept of 1st world business processes into our rather casual jungle methodology while not losing the "take a minute and smell the roses" aspect of living in Costa Rica. Since signing on I get daily confirmation that this was a very good decision and have not looked back.