I want to tell you the ocean knows this,         Yo os quiero decir que esto lo sabe el mar,
that life in its jewel boxes                                  que la vida en sus arcas
is endless as the sand                                      es ancha como la arena
As a teenager, I was as inspired by the poetry of Pablo Neruda. So much so, I decided to study English and wrote extensively during my college years in San Luis Obispo, California. I had the good fortune to rent a house on the beach with two friends, who were brothers. The younger brother would frequently bellow, "Thar she blows!" when he spotted a whale's spout. His brother and I would always drop our books and run to glimpse one of Nature's great spectacles.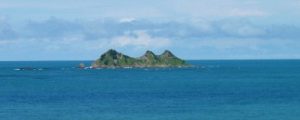 Perhaps fueled by this touch of nostalgia and the fact that I spend almost everyday at the beaches in and around Uvita, I wanted to highlight some of the most precious real estate in Costa Rica— Parque Nacional Marino Ballena.
Parque Nacional Marino Ballena
Created in 1989, the Marino Ballena National Park was the first national marine park in Costa Rica.  It was created to protect the marine ecosystems associated with the beaches, mangroves, islands and a fragile coral reef that turns out to be the largest on the Pacific Coast of Central America.  The park itself stretches from the southern end of Playa Hermosa to the northern end of Playa Piñuela, and a triangular area reaching 9 miles out into the Pacific Ocean.  That triangle also includes the famous Uvita Whale's Tail, Tres Hermanas (The Three Sisters) and Isla Ballena.  In addition to enhancing ocean view of property in the area, these landmarks are home to thousands of aquatic and terrestrial species.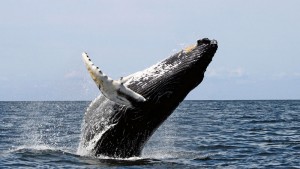 "Ballena" means whale in Spanish.  That's right… this area is visited every year, primarily between the months of November to early March, by southern and northern hemisphere female humpback whales.  They arrive to give birth and nurture their 14-foot?!! newborn calves in the warm, calm waters of Costa Rica.  Although there are daily whale sightings in the peak season, this majestic mammal is still on the endangered species list.  If you haven't seen one up close, you might want to consider putting a whale-watching tour out of Uvita on your Bucket List.
Even if you aren't into the idea of being on a boat in the open ocean, you can still enjoy the experience from land.  I vividly recall one morning at La Parcela (which used to be my favorite spot for breakfast until they stopped serving it!) when my parents were visiting.  We were enjoying our gallo pinto and eggs when a dark blue whale suddenly breached in the middle of the bay.  Over the next half hour, it continued to rise out of the water, twist, and crash down on its side at least 20 times.  It's safe to say, this was the most memorable breakfast my parents and I have ever shared together.
Return Of The Ridley
The humpback whale is just one of many creatures inhabiting the marine park.  Sea turtles are another ancient animal that return to nest on these specific beaches every year.  Thanks to conservation efforts, Olive Ridley numbers are actually rising in the southern Pacific.  You can see them while snorkeling around the Whale's Tail or one of the aforementioned islands.  But, let me tell you… if you haven't seen a baby sea turtle dig out of its sandy nest and instinctively scratch its way to the water, you're missing out on a truly wondrous experience.
Without question, the great outdoors, including the multiplicity of marine life found in Parque Nacional Marino Ballena, is at the center of this amazing life in The Zone.  It is one of the primary reasons tourists visit and why many of those tourists eventually invest in real estate and/or relocate in this part of Costa Rica.  The immediacy of wildlife in the southern Pacific zone, like a 50-foot whale breaching during breakfast, adds value beyond measure.