In Northern California's Bay Area, million dollar homes are very common.  They typically combine elements like— a desirable location, a large floorplan, upscale finishes, and/or estate-sized acreage.  My first position in real estate was in a beach area near Santa Cruz, and the power agent I worked for had no less than five million dollar listings when I joined her.  I just checked that broker's website, and they currently have 307 houses listed between $1 million to $10 million.  Conversely, the Southern Pacific Zone of Costa Rica has a young real estate market and million dollar houses are less common.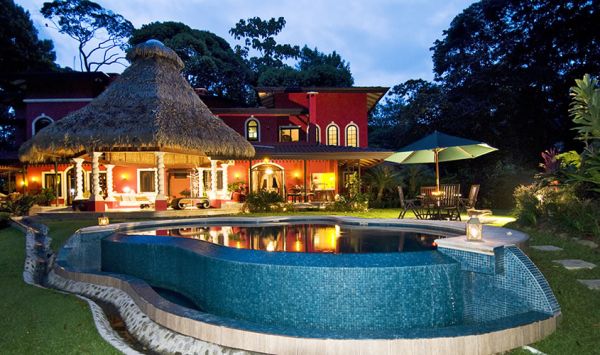 As recent as 2006, this area was considered the new frontier in Costa Rica.  Access was difficult and more exhaustive than it is now.  Developments were few and far between.  Then, the real estate boom hit.  This boom affected all aspects of real estate—raw land, developing, construction, rentals and associated services.  All of the key elements for million dollar homes—desirable location, sweeping ocean views, large building sites, and affordable construction—were easily realized for a relatively affordable price.
Let's start with the land…
Pre-2006, many investors purchased their land for pennies on the dollar.  These were what I call "adventure lifestylers", and they had their pick of the best ocean view and waterfall properties.  These large farms are called fincas here in Costa Rica, and good development farms are now scarce.  Many of these early farm investors were then able to sub-divide and sell off smaller pieces without losing the charm or privacy of their main piece with their luxury home.  That brings up the topic of construction.
In addition to the benefits of buying land pre-2006, they also benefited from lower construction prices.  There were fewer luxury home builders back then, and referrals were (and still are) key.  Inside the house, expensive imports like— European floor-to-ceiling windows, high end kitchen appliances, and exotic imports— were standard.  Outside the house, detached casitas (guest houses) and over-sized infinity pools commonly enhanced the luxury lifestyle.  To many people around the world, this is "the good life" defined.
What can you get for a million dollars?
That was going to be my original title to this article, although… "after a major downturn" makes that question more relevant.  We have seen a recent up-tick in activity in this market but simply put, there are not as many millionaires investing in Costa Rica real estate (or anywhere else in the world) as before.  Luxury estates have taken a severe hit in value, along with every other property category.  But, what does this mean?
For sellers, it means selling your house could take time, unless you price your property aggressively.  This means leading the market, specifically other luxury homes.  This helps with more showings, which always proceeds an offer.  In some cases homes (previously considered million dollar homes) are now under the $1,000,000 mark.  Villa La Colonia in Uvita is an excellent example.  A short time ago, just the land (with that kind of soul-touching ocean view and close proximity to the beach) would run in upwards of $800,000.  Seller financing is another way to attract more prospective buyers.
For buyers, there are fantastic opportunities in the luxury home category.  Escaleras, famous for its ocean view and verdant jungle, probably has the highest number of million dollar homes in The Zone with Costa Verde Estate serving as a prime example.  For million dollar homes without the million dollar price tag, check out Tres Rios Estate.  It is a bit further south, but it has all the natural magic of Uvita and Dominical.  Some larger parcels like Colinas De Lagunas, have two stylish guest houses, a lovely swimming pool courtyard with ocean views to Manuel Antonio, and an additional building site for a main house.
To some people, a million dollars seems like A LOT of money.  To multi-millionaires with a penchant for the jungle and fine amenities, a luxury estate like Can Shekinah is the perfect lifestyle acquisition.  In part two of this article, I will share yet another option for the million dollar home buyer… the Buy-And-Build strategy.