"How much is my property worth?"
Right from the Guys in the Trenches. Here is how we evaluate property, and where we/I think property values are going. Please note that this article is written by me, Ben, and that these ideas can vary from one real estate professional to the other, even within a single office. Rod may have contrasting ideas on these points.
Replacement Cost: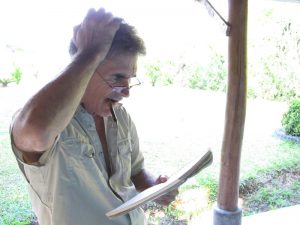 The starting point the Costa Rica real estate professional uses in order to evaluate a property in today's market is to calculate Replacement Cost.
Raw Land: We assign a value to the land. This value is based on market knowledge – ongoing efforts to sell, and of course, actual sales of land in the area. The value of a piece of raw land will get a surprisingly consistent evaluation amongst various agents polled. However, I'll be putting a bit of a challenge on this point in a bit.
Construction Value: After establishing the value of the land as though there were nothing on it, we then measure the square footage of the house and assign it a price per square foot. Such is the life of a Costa Rica expat real estate agent. We live in a world where land size is referred to in metric (square meters – hectares) and houses in U. S. units (square feet).
The square foot value of a house is going to be bracketed somewhere around the $100.00 (USD) per foot. Contributing factors to this evaluation are: finishes, distance up the hill, steepness of the hill.
We are assuming that the basic foundation, drainage, and wall construct are dictated by universal laws that aren't negotiable from one house to another. In Costa Rica you've got a few material choices, but the prices don't really vary that much between them.  Concrete block is likely the most common. Cement panels are gaining some traction. Structural insulated panels are used by a number of builders. The use of wood in building is growing with Balinese architecture enjoying a fashionable presence in the market.
The construction of the roof can vary quite a bit and consequently can affect the per foot value. I know of one house in the zone that has a poured cement roof. This is cool stuff – absolute quiet during heavy duty rain storms, but we are talking HEAVY.
Less expensive roofs vary from the poured cement, to insulated sandwich layers, to tin with a dropped ceiling (the noisiest).
It is, arguably, the finishes that have the most direct effect on the value of the house. Granite counter tops – really fine plumbing fixtures, tiles and the details of the pool will push the bracket into the "over $100 per foot" range.
A pool adds $20,000 to $30,000 to the price.
Here is an example evaluation that I just did yesterday in my offce:
Raw land, $110,000
A 2,600 square foot house at $120 per foot. This particular house is located in an area that requires four wheel drive, so the shuttling of materials increased the per foot price quite a bit –
$312,000
+ $110,000
$422,000.
Pool – $30,000
Replacement cost – $455,000
So, what do we do with this number? These people have dedicated a year of their lives to building this house.  They flew to Costa Rica every 6 weeks to check in on the progress and of course, make the innumerable decisions that need to be made in such a project. What is that worth?
Merciless Market:
Well, frankly, this is the part that the Costa Rica real estate market doesn't really pay much heed to. The big consideration at this point is, do we offer to sell your house at replacement cost, above replacement cost, or below? In today's world, pushing the price above replacement cost is a function of the real estate Guy's market insight. We are in a Buyer's Market.
The agent will consider the desirability of the property. The view, the access, the privacy, the air motion and so on – the general niceness of the property are all considered.  Based on this criteria, there can be some upward movement from the raw replacement cost.
Perplexation:
Here is where it can get a bit strange. There are some houses that are priced below replacement cost.  How can this be?!? The land has an asset value, and the construction costs are fixed and don't vary too awfully much from one source to another.
I am working on a new theory about this phenomenon in evaluating Costa Rica real estate
In my ruminations of this topic, I have come to conclude that there are two rational areas that we might have misjudged the value of a property. There is a third that can simply be explained by the seller being intensely motivated by desperation.
The Rational Considerations
Consideration #1 – The seller ran amok with making their construction and design a declaration of their personal individuality with the result that nobody in their right mind is going to want to live in such a structure. In order to buy the property and then live in it, the buyer will be taking on some serious expenses in order to make it livable for their purpose. The sale price is going to have to be adjusted down to accommodate these expenses.
Consideration #2 – I got the value of the land wrong. It's not really worth what I said it is. This is the one that gets me, and brings about some interesting questions. Is land value here in Costa Rica really lower than what we are willing to admit? Hmmmmm…
What is NEVER factored in:
How much the seller has into the property.
I'm going to write more on the evaluation of property in our Costa Rica real estate market place. We have had some interesting discussions as of late with the vibrations of increasing buyer activity here in The Zone.