I have a thing I do on a personal level that I call my "Toucan Test". It is my personal test for determining whether I'm becoming jaded to Costa Rica's uniquely raw and wild beauty. It goes like this: when I see a toucan, do I take note of it? In other words, do I react with a "ho hum, just another toucan" – or do I still marvel at this extra-ordinary bird that defies design logic here with appreciation?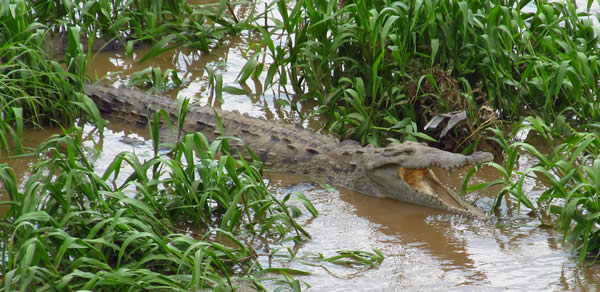 Earthquakes are a rather "regular" element of life here in Costa Rica. Not so consistent that we (all us expats) don't all have to comment on them. I don't think that we are in danger of reacting "ho hum" to an earthquake, but when the ground starts to rock and roll, I think that the element of alarm is greatly reduced and they become more exciting than anything.
Yesterday was no exception.  A real rocker hit Costa Rica.  Nat & I were at CIMA hospital when we had a 7.6 earthquake. Its epicenter was in Samara, over on the west coast on the Nicoya Peninsula. I was standing in my patient's gown, the type that ties in the back.  They let me keep my BVDs on so it wasn't an overly compromising situation, but I had to smile, even while the building was threatening to come caving down on our heads at how life likes to "shake things up" sometimes – this time in a literal sense but there was still the irony of the way things can play out.
I was scheduled to get an MRI of my lower back the day before, but they were unable to determine what type of material is in the 12 screws, plates and chains of my face (relics from a near-death experience I had a couple years ago) so we had to reschedule for the following morning They determined all of my head hardware to be of titanium, which is good, so we were a go, conveniently putting me in my robe in the MRI department at the time of the quake. The scheduling had me standing there, so tastefully attired, as everyone in the hospital, doctors and nurses included, went running out of the building.
That was the start of my day. The hospital took the earthquake admirably. For the amount of shaking that went on, one would allow a crack or two in a wall or floor – but nothing – and yes, I did get my MRI, complete with after-tremors. I am currently standing by awaiting the results that I hope will explain the incessant pain coming from my lumbar region.
From there we headed south for home. Nat & I have been talking lately about how we need to start doing more sight-seeing here in our home of Costa Rica. So, as we were driving over the Taracoles bridge just about 18 kms north of Jaco, we decided to stop and look at the crocodiles, something I haven't done since my first visit to Costa Rica in 1998 and we are glad we did. What impressive creatures!
From there we went into Jaco and stopped at the Taco Bar where we both ordered fish tacos that come with a so so salad bar.  The tacos were excellent.  Nat had red snapper and I ordered Wahoo. I can't really speak for how they were since I still don't have my sense of taste back yet from my brain incident, but I can say I enjoyed them. Plus, the people-watching in Jaco is worth the visit.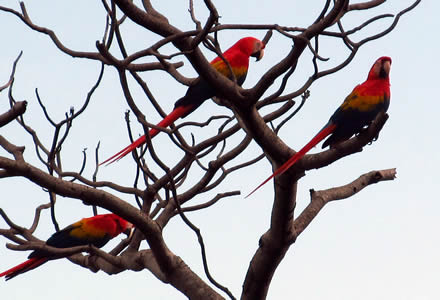 Just south of Jaco we saw a bunch of people in a turn-out taking photos, so we stopped. Well, I drove past and Nat emphatically suggested that we turn around and see what was going on. We got back there and saw a bare tree, overlooking the ocean, laden with 20 or so scarlet macaws.
From there we headed on down the road for the final hour and a half or so of journey from Jaco to home between Dominical and Uvita. The last half hour was through a September afternoon downpour, typical for this time of year, but truly momentous in its power and sheer volume of water falling from the sky. There were times when we simply had to stop for poor visibility, despite having our wipers on high.
We got home to Nat's and the electricity was off, so we lit up candles and made the best of it with our good friend Robert who had stayed there taking care of the dogs.
I passed my Toucan Test yesterday with flying colors. These events marked what I would call a spectacular day in the life that I have chosen, living here in the wilds of Costa Rica.