Construction, that is to say, building a house in Costa Rica, is a project for the adventurous relocator, and for those that are looking to optimize a real estate investment strategy.
Whereas the following did not use to be true, times have changed; building a house in Costa Rica is entirely do-able, money-saving and potentially lucrative if you are a real estate investor.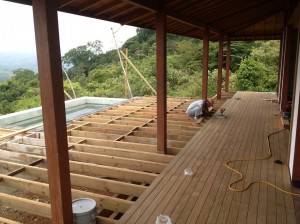 There are nightmare stories out there about building a house in Costa Rica. Relative to the topic of construction I can say that times have changed. "Relative" being the keyword here. Building a house can go south quickly anywhere. But the improvement over the last few years in the building process here in Costa Rica has improved exponentially.
Building a house in Costa Rica is a good idea, in my humble opinion. There is a current trend in the real estate market here in The Zone that makes this the approach of choice for 3 groups:
1 – Property buyers looking to optimize their budget.
2 – For investors who are looking to speculate.
3 – For those who had intended to buy an existing house but can't find what they want and are determined to own something here in Costa Rica.
This strategy is viable right now, at this point in time, for conditions that can, and I suspect will, change in time. Land prices are at an historic low. We're not back to 2004 prices on raw land, but close. We are however, at or below recession pricing on this type of property. Houses not so much. There is a price-disconnect with the cost outlay comparison between buying & building and buying an existing home. The market demand is on existing houses.
What does it cost?
Land: Ocean view lots start at just under $100,000 and go up to many times that.
Construction: Per square foot price of construction costs brackets around the $100 per foot. This can go up or down depending on various factors.
About Land Costs
The land cost will obviously vary depending on the quality of the property. The factors that affect the sale price of a property are:
View
Access – distance from the main road
Services available to the property
River or stream – waterfall
General property condition and desirability
Land size
Under $100,000
View: The biggie with this level (and with the others for that matter) is view. It's unlikely at this level that you'll have a soul-toucher, but you'll see the ocean. In my real estate practice I discount the "wet horizon". These are still marketed as "ocean view" but as this really doesn't play into the quality of life on the property, well… just know this fact.
If you are OK with no ocean view, you can get an excellent property for just the quality of the property. And the non-ocean view property can be very compelling. I don't recommend non-ocean view for the strictly investment buyer.
Access: has become more of an issue in recent market trends here. In earlier years we used to bump 15 minutes up the road to get to a screaming ocean view, and the people would buy. Now we get halfway there and the people say "no thanks". I'm not sure what has changed but wonder if the overall hardiness of land buyers in the area has shifted a bit. Or it may be that the options closer in have improved, hard to say.
Most accesses in The Zone are 4 wheel drive. So this criterion factors heavily into the value of the property. So it may be that the under $100k has an access issue helping it to have the lower price.
Services: having a good water source that is legal and year 'round is vital. Some of this level price point may require some work to getting this. Ditto this for electrical & access.
River or stream: A definite enhancement to quality of life on a property. A waterfall on or along the border of the property can almost offset the lack of an ocean view (notice the "almost" in that statement). Ocean view is king. It would be a rare find to have a waterfall on an under $100k property, but it can happen. You want to make sure that if you are here in the months of April – November (rainy season), and if you are seeing a stream on the property, that it is year 'round. You'll want to know if the stream is there in March, the last "dry" month of the year.
General property conditions: the under $100k may be multi level which may or may not be what you're looking for. Some may want just the single large building pad or the split levels can offer a level for a main house and provide the separation between main house and guest house that you're looking for. Or there is the possibility of extending a deck out over the lower level.
So lay of the building area, land, jungle and air motion are all factors. You are the barometer of this criterion. Stand on the property and "feel" it. The air motion is extremely important and will weigh into your decision heavily, perhaps even on a subconscious level. In Costa Rica the air motion is what makes it all work as far as I'm concerned. Stand on a property with no air motion and the stillness will turn you off. Move the air a little bit and its gold. Of course, ceiling fans can help, even on an open air part of the house like a deck or patio.
Over $100,000
Quality of the criteria is all improved. The view will likely play a large part in life on this property almost on par with the landscaping. The access will be good. Land size? Well…
The size of the land obviously plays into the evaluation of a property, but is at the end in the evaluation list here for good reason.
One is simply the subjective nature of land size. Some want a buffer around them. They don't want to see a neighbor. Others say "don't put me out in the jungle alone". Some want condo-life some want pure nature, some want gated community, some want absolute privacy.
The topography in The Zone is radical. The coastal mountain range that runs through most of The Zone is not very well organized. I think of the coastal mountain range in California that so thoughtfully runs north & south. The ocean is due west and the United States if everything to the east.
Costa Rica's coast is diagonal which tends to disorient. When we look at the ocean we are not looking due west, more like south-west. Also, the country itself is considered "young" in geologic terms. The forces that build countries: tectonic plates colliding and volcanic activity, to name a couple, have resulted in what we now call Costa Rica. And it is done willy nilly. So even along the coastal range you have a tremendous diversity of land profile. Some areas run alongside the ocean. Others are fingers of land (promontories) with 360 degree views. You can stand on a property here with a bomb view and the next one "over there" not too far away is mediocre at best.
So you, dear prospective Costa Rica land buyer, get to determine your budget by the criteria that guides your purchase. If you are spending $300k on a piece of raw land, it will no doubt be sporting one soul touching view, have great access, all services and an amazing feel.
Large, multi-acre parcels range all over pricewise and so with these you get into the above stated criteria, but also factors such as commercial potential, farming etc… enter into the picture.
What does it cost to build?
This question is a moving target, so much depends on what you want to build. I have seen recently that there is a trend towards downsizing life and going simple. As a general rule of thumb, think in terms of $100 per foot and you can go up or down from there depending on your level of involvement and your finishes. All houses, luxury & simple, look essentially the same through the construction process until you get to the finishes. Of course, the architectural & engineering costs can vary immensely as well, but the finishes seem to be a large determinant in the end pricing.
Example scenario:
Buy a nice $120k oceanview piece of land in Uvita that is 8 minutes from the grocery store. Build a 2,000 sq. ft. home with reasonably nice finishes @ $100 per foot. You now have $200k into construction costs and $120k in your land it sits on.. Allow 8 – 12 months for the permitting & building process.
Now, compare what you've got for $320k out of pocket with other comparable properties on the market, and you'll see the clear budgetary benefit to having bought & built. Comparable houses will likely start around $450,000.
I will be writing more about construction in upcoming articles. If you'd like to be sure and receive notice of these, sign up for my newsletter or follow my Facebook page.