At this writing, we are in the later stages of the rainy season here in the zone. Its a bit of a paradox why the rainy season here is called the "low" season. For those of us that live here, it is one of the nicest times of the year. There are flowers out like crazy, the climate is only perfect AND, there aren't that many people here.
Now, don't get me wrong, I enjoy the busy season when there are lots of people here. Its just different. After what can seem to be a lengthy rainy season, one is ready for the sun to come out and stay out. Also, after the rather quiet months of the rainy season its kind of nice to get back into that almost festive feel of seeing so many people coming here and enjoying the sites and adventures that this part of Costa Rica offers.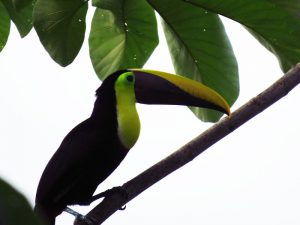 So, where we're at right now is a rainy season coming to an end – lastima! (too bad!) I love the rains.
We're heading into months of uninterrupted sun and LOTs of people. The rainy season is extremely nice here. So is the non-rainy season – I guess this is what we call "life" here in the zone.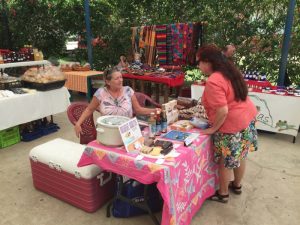 My morning:
This morning I did my usual visit to the Uvita Farmers Market. This is the big cultural event of the week in Uvita Costa Rica. Recommended to anyone considering having a stake here in the Dominical, Uvita or Ojochal areas.
It's nearly impossible to run in, grab what you need, and leave. My good friend Rod came in for a glass of fresh squoze orange juice.
I think it took him more than an hour to get back to the squeezer's table and get himself a cup. Such is the Uvita Farmer's market.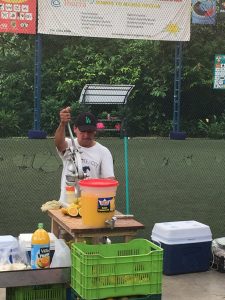 One of my current observations regarding The Zone is the ingenuity and creativeness of the expats to make a living here. I have mentioned how young families have firmly made up a new segment of the demographics of The Zone. The private, bi-lingual schools here are bursting at the seams.
Not just the young families, but also most who are looking to move here have the question "how do I make a buck in Costa Rica?" as a prominent pregunta (question) in their considering the move.
This morning when I entered, I saw my good friends Tom & Anke Nagel at the immediate left as I walked in. They have s sustainable farm between Uvita & Ojochal, up in the hills a bit. They have lots of cacao plants growing there. They groom the plants organically and harvest the cacao seeds. They are now making screaming delicious chocolate bars called simply "Tom's". They sold out as I stood there, despite it being "low" season.
Then I turn to my right and there is Tori at her table. Tori works part time as Rod's personal assistant. I think that Rod would prefer that she be called "the one who makes my life work", or something like that. But in any case, Tori and her fiancee have begun the first micro-brewery in the area and even organize what has established itself as a very successful beer fest here in the area. She sells kombucha at the market.
Moving back further into the market I spoke with Maria who provides all manner of organic delights: dried plantains, seasoned with chile, salt or lemon. Also she sells an amazing yogurt tahini as a dip. Spicy and variously flavored chile sauces, organic cacao beans, sesame seeds, all manner of nuts etc…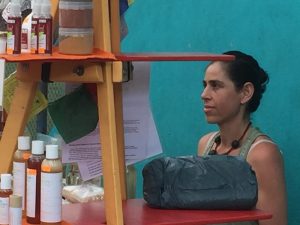 Going yet further back I like to visit Gaby's table. She is where I buy my Himalayan salt, as well as bio-friendly laundry detergent and so on. She has helped me get started with growing my own moringa (do a search on Google for "moringa", it'll blow your mind. The solution to the world's malnutrition?) & chaya trees (again – the solution the world hunger?). I always learn something from Gaby that helps me to take steps towards my personal objective of not being quite so dependent on what's on the shelves at the grocery store.
Ran into a friend I hadn't seen for months. We sat at the restaurant there in the market and discussed exactly this topic of how to make money here as an expat. He's looking at focusing on long term rentals which we both see as a strong and very needy niche that needs to be filled here.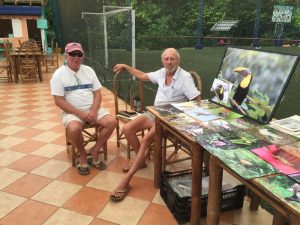 I stopped at Brian Nice's table to pay my monthly contribution for the Playa Hermosa life guards. This program is saving lives and is funded strictly by voluntary donations and (I think) Brian's pocket. I know, you're thinking: "isn't that what the government should be doing?" How 'bout let's not go there. This is how it gets done here.
Rod & I decided to go get a bite at the Bamboo Taco trailer thingy that Sean Gallagher came up with. He drags his trailer'd grill behind his 1970 something diesel Toyota Land Cruiser and parks outside of the Uvita Veterinary Clinic right alongside the coastal highway starting on Thursday through Saturday. The tacos there are to die for and they are now serving pizzas and ribs, the latter of which was the reason that Rod went there today. I had the fish tacos. Awesome!
So, if you've read this far and are wondering what the heck a "morning in the life of the zone" article is doing on a Costa Rica Real Estate blog, it for this reason – many people that buy real estate here in The Zone are looking for a change-of-life. This is not just a question of buying a piece of property. In fact, real estate is just a small part of a much bigger picture. What its like to live here factors very strongly in why many people buy property here. Also, seeing the creative ways expats & Ticos make money here addresses one of the principle topics I encounter in my consultations and real estate business in general – that of "how can I make money in Costa Rica".
If you'd like to talk, let me know. You can use the form below to setup the first one. What the heck – its free.
[contact-form-7 id="3197″ title="Contact form Ben"]