Before moving to Costa Rica in 1999, my family and I had lived in Colorado for the previous 20 years. We lived in the gorgeous Aspen valley. There was one busy season there at that time: winter. Aspen was known as a ski town and that was why people went there.
Us locals didn't really understand why summers there were the "low" season. Summer there is magic. Well, during the years that we lived there, we saw a transformation from a 1 season tourism town to a 2 season. I'd be interested to see the data on which one is bigger tourism-wise. I wouldn't be surprised to hear that summer out-does winter, but that's just me.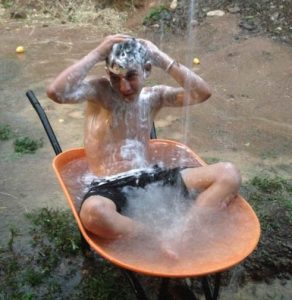 Here in The Zone, I feel like I'm seeing a repeat. For many of the locals that live here, the rainy season is the preferred time of year. It is cooler, and absolutely magic as well. Its still warm when it rains.
The beginning of the rainy season coincides nicely with the mangos becoming ripe on the trees. Now, I don't know if you've ever eaten a mango, but they are MESSY. You get the juice running down your chin onto your shirt & shorts. It is for this reason I don't eat a lot of mangos as a practice, despite the fact that I LOVE their taste.
So here's what we do; when heavy afternoon rain set in, we suit up in swim attire, go climb a mango tree and get a bunch of mangos to eat. Then we sit in the downpour eating mangos. Invariably we end up having a mango-skin fight and getting covered with mango juice which then promptly gets washed off by the rain.
Or, one might find the deserted beaches to be the thing that they like to do during a tropical rain storm. They are "deserted" due to the fact that it is raining. Again, not sure why this is. The beaches in the warm tropical rains are a pensive and wonderful experience. To have a couple miles of breathtakingly beautiful beach all to oneself or with a loved one is, well… magic.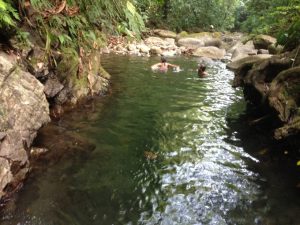 Again, its not cold out when it rains and the ocean here is just about warm. In fact it wouldn't bother me a bit if it was a bit cooler. On a hot summer's day, you jump in the water and now you're wet. Its not what I would call "refreshing". If one wants a refreshingly cool dip, they have to go inland to one of the many rivers and find a pool with a waterfall. Now this is invigorating. Nothing like the breath-stealing cold of the melting snow rivers of Colorado however. The rivers here in Costa Rica are set at the perfect temperature.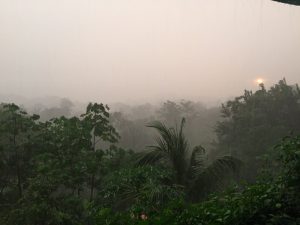 Anyway, as the change from rainy season to dry season is becoming evident, I've now heard a number of locals say (yours truly included) that they are sorry to see the rains go. Weird eh? Many that live here almost prefer the rainy season over the dry season, despite the fact that it is the low season for tourism. Shades of Aspen Colorado in 1979.
In Aspen, the summers were/are just absolutely gorgeous. The rivers to die for (albeit really cold). The backpacking, bike riding, fishing and any number of other outdoor activities were magi…, er… wonderful. It is no surprise that the tourism crowd figured this out. Will the same thing happen in Costa Rica? Me thinks "yeah".
In fact, I think that its already happening. I've heard a number of the local merchants, i.e.. restaurateurs, hoteliers, vacation rental-ers and tour operators say that business was good this past "off" season. Granted, for travelers from the U.S. & Canada there is a bit more involved with travel to Costa Rica than to say, Colorado. So there are some aspects of the comparison that differ. But I suspect that we are seeing a gradual up-tic in the numbers of people here in rainy season.
There is also an increase in the numbers moving to The Zone. Our real estate business is brisk. One of the guys in our office says that he likes the start of rainy season because it is always busy for him. My experience has been similar. Real estate seems to have its own time frame. Some that are considering a move to Costa Rica come down during this time to see if they like the rains. Another benefit is that since it is a bit slower, you can get the undivided attention of your real estate guy (or gal).
During the busy season, we will sometimes plan a morning of showings with one buyer and then have to finish up by early afternoon to free up for afternoon showings with a different buyer, limiting the total focus that is available to any one buyer during the rainy season.
So, if you are among those considering a move, or even a visit to Costa Rica, you might want to consider coming during the months of May through November. September & October have typically been the wettest months of the year here but this may be shifting a bit. November was one of the heavier rain months this year.
Of course, one of the favorite activities during the rainy season is the afternoon hammock siesta with the sound of the rains pattering on the rainforest. You might start off with a little book reading, but it will likely go into slumber.
To some extent, I am just putting to writing here a conversation that seems to repeat itself in my real estate business on a regular basis. People want to know what its like in the rainy season. So, I thought I'd share.