Rod & I have decided to write a few words about the year just past. We did so without consulting each other or giving any clues regarding what we've written.
First off is Rod
If you subscribe to the idea that life is a series of ups and downs, then last year was a harsh reminder of how challenging the "downs" can be.
"Unemployment soars to highest level in 16 years." – New York Times
"U.S. Foreclosures to Reach Record 3.9 Million in 2009." – Bloomberg.com
"New car sales a 'disaster,' says Sergio Marchionne, CEO of Chrysler/Fiat." – NY Daily News
While people were losing their jobs and houses in record numbers,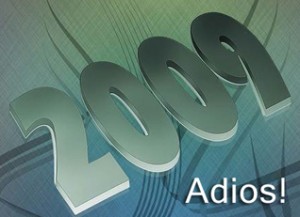 they still had the time and interest to search for Britney Spears and WWE (World Wrestling Entertainment, which is fake wrestling, right?) making them the top two search terms on Yahoo! for 2009.
Although I have no idea what Britney was up to in 2009, I do know that most of us here in Costa Rica felt the impact of this economic downturn. After a decent start to sales in January and February, most real estate companies saw offers dry up during the following 8 months.
Like many people around the world, the Guys In The Zone shifted gears to "beans & rice mode" (luckily, we both like beans and rice). We tightened up the expenditures and found new streams of income. [Ben deserves some kudos here for his quick mastery of the hard money lending business. He, (leveraging his experience, contacts, and bilingual-ness) saved more than a few local families from economic disaster. This lending experience taught us that putting good food on the table is important, but to literally save someone's table (and house it sits in) from foreclosure is a genuinely rewarding experience.] While we didn't sell any property during the middle of the year, we did put a lot of time and energy into new listings, our websites, and the Talk Show feature which we will continue to work on in 2010. Ben also started writing articles for Montana al Mar, a new monthly magazine focused on health, sustainability, and community.
The old adage "When you love what you do, the money will follow" proved true in 2009. The end of the year found activity picking up noticeably. Three excellent deals in November and December proved to confirm that the paving of the Costanera Highway between Quepos and Dominical would lead to more investment interest in the area.
As we mentioned in the last Talk Show Episode 5, International Living Magazine has elected our area as not only the best option in Costa Rica, but one of "the 4 best real estate plays for 2010" in the world. When buyers do make it to The Zone, they are going to be pleasantly surprised with the quality and quantity of available property. According to our in-office estimation, property values have dropped by roughly 40% on many of our listings. There are a few exceptions, but this has been the reality for most property owners who need to sell.
I just returned from California, where the weather is cold like most real estate markets. I have a few Realtor-friends back there, and the consensus is "it's a cycle." Buyers rule the day to start 2010, and they will probably be sitting in the power position for a few years to come. But… with the rough road of '09 in our rearview mirror, 2010 promises to be smoother… like a newly paved highway in Costa Rica's southern Pacific zone.
---
Now Ben
"The world has changed and we're going to have to really think outside the box".
The rules were all changed, all of a sudden, at the latter part of 2008 and early 2009. Our world here in Costa Rica was impacted by the global economic crisis, not so much due to local economic conditions, but more because of the effect of the global economies.
Costa Rica was spared the humiliation of stupid credit practices. Ironic when you think about it – this little, backward Latin American country, with it's nearly impossible credit applications that turn away all but the stoutest of applicants was thought be be – well – backwards.
The effect on the Guys In The Zone office is summed up in the quote above. We weren't sure what a real estate office was going to look like going forward, but we knew that it would bear little resemblance to the way it had looked previously. By this I mean that, without anyone walking in the door to buy property, what were we going to do? A number of the agencies closed down, the rest did the unexpected – they drew together.
The Southern Pacific Alliance of Realtors or "SPAR" was born out of the realization that we would be stronger and more likely to succeed if we worked together as competing/friendly agencies, to service the needs of both buyers and sellers. 2009 saw a marked uptick in collaborated showings between agencies.
2009 was the year of the lister, or seller. There was the feeling that sellers were lining up at the door to get us to list their properties. The ones that we determined were not willing to lower their prices to accommodate the declining market we would have to graciously reject. We felt that we were going to go broke taking listings.
This resulted in what we have now at the start of 2010 – a beautiful, extensive and attractively priced inventory.
Our office went for 9 months without selling a piece of property. I don't know the data on the rest of the offices, but I understand that there were similar experiences. This required that we think outside the box and look for real estate services that people in Costa Rica would need in a down market.
Loans: I have written a little about setting up some loans for besieged land owners so I won't go into it here. The loan deals generated some business and much needed cash flow for us through 2009, and in the process helped some locals to hang on to their properties.
Land Evaluations: We began to charge for services that we used to offer gratis. Land evaluations, consultations, relocation help, resourcing.
Marketing: Rod engaged with the San Buenas Golf Resort to help with some of their marketing and promotional materials. SBGR did the opposite of everyone else and instead of pulling back, they moved forward. That project sits there in the southern zone as a diamond in the rough.
Dominical.biz: I have taken back my website www.dominical.biz and am about to launch a new version of it. It is the oldest and at one time, the best online resource for publicizing all services and information in and around Dominical. I am working diligently to get it back to its former condition and then well beyond. Ditto this for the small community site for Uvita (www.uvita.biz). The site is growing slowly, as time permits. It is a lot of fun and has tons of potential
We made it: 2009 closed out with a flurry of land buying. The Guys put 3 properties under contract during the last 2 months of the year, and at this writing, all are holding and are about to close. We hear similar reports from the other agencies. There has been a considerable amount of good press regarding Costa Rica and in particular the southern pacific zone over the last several months.
International Living: the effect of the new airport
Tico Times: Costa Rica real estate revival
With the improved access to Costa Rica's southern Pacific zone, there is little doubt that we will see an increase in business in the coming year. Guys In The Zone has survived and is even moving up to occupy the former Rainforest Internet Café space.
We truly thought outside the box in 2009, and as such have a new outlook on what the real estate profession in Costa Rica looks like. What it looks like now is lots of cooperation with the surviving agencies, and more of a services business. Consequently we've modified our by-line to (Costa Rica) "Land & Life Services".
We look forward to the coming year with you all!