I have just returned to Costa Rica from my regular visit to Davis California. This trip was predicated by the fact that my mother had been diagnosed with cancer. The preparations for the trip were rushed. My mother's surgery to remove the cancer from her throat was scheduled on Monday, so the Monday prior, my sister Audrey made the arrangements and I spent the week getting things in order to fly.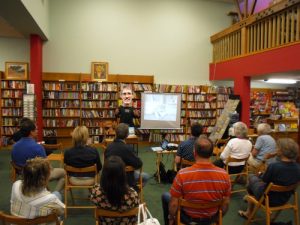 My mother had specifically requested that I come before her surgery.  She didn't say, but we suspected that she was scared. Also, since her surgery was to be in her throat, she would likely not be able to talk for some time after the surgery.
We had a couple hours on Sunday and then the surgery was on Monday.
When the doctor went in to do the incision, he was a bit taken aback. There really wasn't much cancer to speak of. So he just did a biopsy. The next day, Mom was up walking around, talking and eating.
All of which resulted in the point of this article, which is to tell you about my evening giving a talk at a bookstore, The Avid Reader in Davis. But first I should probably finish the lengthy lead-in part.
My mother had been diagnosed with