I have just returned to Costa Rica from my regular visit to Davis California. This trip was predicated by the fact that my mother had been diagnosed with cancer. The preparations for the trip were rushed. My mother's surgery to remove the cancer from her throat was scheduled on Monday, so the Monday prior, my sister Audrey made the arrangements and I spent the week getting things in order to fly.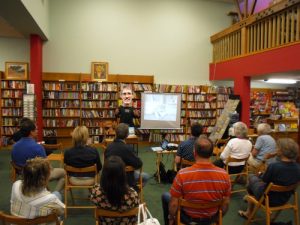 My mother had specifically requested that I come before her surgery.  She didn't say, but we suspected that she was scared. Also, since her surgery was to be in her throat, she would likely not be able to talk for some time after the surgery.
We had a couple hours on Sunday and then the surgery was on Monday.
When the doctor went in to do the incision, he was a bit taken aback. There really wasn't much cancer to speak of. So he just did a biopsy. The next day, Mom was up walking around, talking and eating.
All of which resulted in the point of this article, which is to tell you about my evening giving a talk at a bookstore, The Avid Reader in Davis. But first I should probably finish the lengthy lead-in part.
My mother had been diagnosed with cancer. It was there. Then it wasn't. We attribute this to some work that Audrey did on Mom with some essential oils. Later on Mom even said that she felt she had "passed" something on Sunday.
So now I'm interested in these essential oils. With Audrey's help, I am using them to see if I can get my sense of taste back. The vision in my left eye is still gone, but I'm trying it there. Also, for the first time in over 2 years my back pain is nearly gone. Amazing stuff.
OK, so there I am in Davis for the month, and my main reason for staying so long is now gone. There is no convalescing period necessary for Mom. What am I going to do?  Why, give a talk on Costa Rica – obviously!
The evening went well. Normally such events occur on Friday nights and, normally they need a minimum of 3 weeks to announce and prepare. We had less than 2 weeks, and the Friday evening slots were taken.
Well, thanks to the graciousness of the folks at The Avid Reader (thank you Alzaida & Nicholas and the others that I didn't meet), we went ahead with it despite these obstacles.  It would happen on Saturday evening at 7:30 and we'd see what kind of support we got from the local newspaper.
It turns out we got an ad and a write-up. The turnout was great. I was a bit surprised. There were more folks there than expected. Standing room only. I like the sound of that. But really we are talking about 30 people tops.
I was interested to know if there was any interest in such a topic there. (I liked the thought of doing something kind of scary as well.) I know that it is a topic of interest here in Costa Rica, among those that visit here or have bought. But I was curious if Costa Rica was as hot of a topic as we had been led to believe by comments that are made by visitors.
It turns out that there is quite a bit of interest in the topic.
The evening was free of charge.  There were lots of great questions. I was able to use the Avid Reader's slide projector to show maps of where The Zone is in Costa Rica.  And then (of course) the usual fare: photos of toucans, waterfalls, sunsets, monkeys and beaches, and, and…
It was a great evening and it gave me a clear answer to my curiosity. Yes indeed, there is interest in moving to Costa Rica. And it would seem that you can pick almost any random location to find such interest.
Next up: the outline of my presentation that evening.