I have invited a new guest author to my blog. Frank Walker puts out a newsletter once a month that I have subscribed to now for some time. I always find his depiction of the news enlightening and fun to boot. Plus I wonder just how the heck he finds all this stuff out.
~ Ben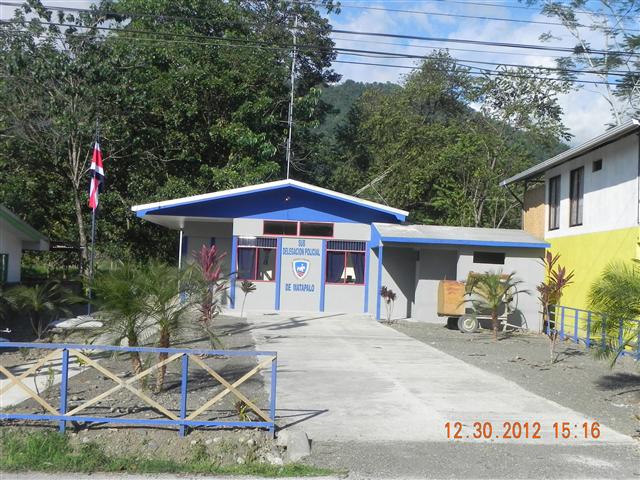 Matapalo
Police Station – The police station was dedicated earlier this month in typical Tico fashion with speech after speech from various officials.  There was really a nice turn out from the local community.  As promised the station is manned.  The other day I actually saw two police at the beach. They were chatting up two young Ticas whose shorts and tops were so tight it looked like they used spray on spandex.  Guess the two young officers were engaging in a community outreach program.
Loss of Businesses – Word has it that this will be Susanna's last season to be open.  Under the new liquor law the municipalidad is hitting her up for something like US$250.00 per month for her liquor license.  Word also has it that Phillipe will be closing down.  Whether or not he is going to sell his pulperia or close it down is unknown.
Quepos – A Sherwin-Williams paint store is going in just down from Pali.  Although the paint is made in El Salvadore it is the same high quality paint you get stateside.  It is also cheaper than Sur or the other paints you get here.  Previously, when El Colono stopped carrying Sherwin-Williams the nearest place to get it was Parrita.
San Isidro Feria (Farmers Market) – The feria itself is the same; however, a rather large case lot type store has opened at the end of it.  The store carries a large mix of items in addition to food and beverages.  You can buy either in bulk or case lot or individual items.  Not sure if the prices are any cheaper than other stores but it is worth checking the place out.  There is a similar store on the Interamerican just south of San Isidro.
Now on to the national stuff.
Old 5,000 & 10,000 Bills – As of midnight tonight these bills will no longer be legal tender.  If you have any of them you can exchange them for new bills at any bank up to 30 April.  After that date they can only be exchanged for new bills at Banco Central in San Jose.
Taxes – In addition to regular property taxes coming due the new corporation tax and the education and cultural tax are also due.  The education/cultural tax is normally due by 31 March with the corporation tax due by 15 January.  What you will owe for the education/cultural tax seems to differ from person to person.  Last year we only paid 750 Colones.  A friend paid 9,000 Colones and another friend paid 5,500 Colones.  This year the corporation tax is 189,700 Colones for active corporations and 94,850 Colones for inactive corporations.  Using today's exchange rate that is US$379.58 for an active corporation and US$189.79 for an inactive one.
If you bank with Banco de Costa Rica (BCR) you can pay these two taxes on line.  Previously, the only place to pay these two taxes was at a BCR branch.  Whether or not you can still pay these at any BCR branch I don't know.  Earlier this year the Hacienda indicated that starting in 2013 ALL taxes had to be paid by electronic transfer.   How this is to be accomplished since only about 40% of Ticos have computers and are on the internet remains to be seen.  Guess this dove tails with the next item.
Report a Crime On-line – The security ministry announced earlier this month that they have an app available to download to your cell phone that will allow you to immediately report a crime to the police, that is providing the ladron (thief) didn't also steal your phone.  The article in amcostarica didn't say if the report would also automatically go to OIJ (Costa Rica's version of the FBI) or not.  Probably not since the OIJ is part of the judiciary.   The drawback is you HAVE to have an Android cellphone plus register with and have an e-mail address with Google.  Anyone want to give odds that whoever in the security ministry dreamed this up has a vested interest in the local Android phone market?
Earthquakes – This year was the year for earthquakes.  The Observatorio Vulcanologico y Sismologico de Costa Rica recorded 11,049 quakes.  This is more than double the 5,483 quakes recorded during 2011.
Cost of Living
Inflation & Cost of Living – Rodrigo Bolanos, President of BCCR (Banco Central de Costa Rica) which basically is the equivalent of the U.S. Federal Reserve Bank has stated there will probably be a huge increase in inflation and the overall cost of living during 2013.  This is because so much investment money has been moved into Costa Rica because of high interest rates being paid and the stability of the Colone there has been a large increase in dollars in the National Reserve.  This in turn will lead to higher prices for goods and services.  If some economist out there wants to explain that part to me, please, do so.
Exchange Rate – Today's exchange rate at BCR is 499.75 Colones to the dollar.  This past Friday it was at 505 to the dollar.
Fuel – Presently, Super is 675 Colones per liter (US$5.13 per gallon), regular is 643 ($4.88) and diesel is 632 ($4.80).
Recipe – Home Made Yogurt – This is a thin, drinkable yogurt but can be thickened by straining through cheese cloth.
Slowly bring a liter of milk to a boil.  Be careful not to scald the milk.  Remove from heat and add two tablespoons of yogurt.  Gently stir to incorporate.  Initially, the yogurt you add can be any plain store bought yogurt.  A good Greek yogurt is recommended if you are stateside.  After the first batch you can use two tablespoons from it for other batches.
For some added body and thickness you can add a small container of whipping cream to the milk prior to heating.  If you are in Costa Rica and have bought the whipping cream they have here you know what a chore it is to liquefy the stuff.
Let cool to room temperature then pour into a non-corrosive container, cover and put in a cool, dark place overnight then refrigerate.
To eat sweeten with honey if desired and add whatever fruit, nuts, or flavoring you want.  Goes great over cereal instead of using milk.
Until next month!