The place is packed. More and more people who bought land in the past are building or have built (and are happy about it.) Travel & Leisure put The Zone as the #1 place to visit for 2013. What the heck is going on?
I was invited to a house christening last night by Richard & Debby up at Costa Verde Estates. It was a small gathering, made up primarily of migrators, most of whom have just recently built a house or are in the process of doing so. I observed and heard some rather interesting indicators of a tipping point there.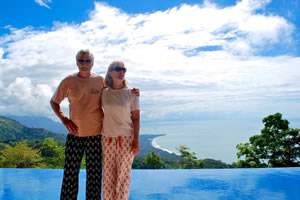 numerous statements of an obvious love of Costa Rica and The Zone in particular
they were happy with their builder and the process was relatively smooth
comments about the resources now available to a home builder in Costa Rica
comments about how many people are talking about The Zone back home
comments on how many people there are vacationing in The Zone
how packed the hotels and vacation rentals are
guesses as to what the next 10 years are going to be like here
the reality (or not) of the international airport going into Palmar Sur (majority – NOT)
the effect of the highway being paved between Quepos and Dominical
There was a palpable feeling of "we are at the tipping point" here.
The facts that alcohol consumption was moderate, and that these people have extensive Costa Rica experience (some have been visiting since the '70s, '80's and '90s), and that most of them have gone through the building process, lent credibility to the Tipping Point indicators.
Also, the fact that these people, for the most part, were migrators helped. They have a fresh and "outside" view of what winds are blowing here in The Zone. Not like me. I live here full time. Sure, I leave Costa Rica a couple times a year and come back with a fresh view of how lucky I feel to be able to call this place "home". But I think that my situation is a "can't see the jungle for the trees" scenario. In my routine here day to day, I don't see the far reaching trends. Sitting up on that beautiful terrace overlooking the lights of the coastline and out onto the pacific ocean, my evening of conversation with these friends was enlightening to me.
These folks have a life elsewhere. Many of them are returning soon to their homes, families and jobs. Many of them have plans, some up to 10 years down the road, of moving to Costa Rica full time, others just months away.
Richard & Debby designed their house to accommodate their now-grown kids and their families in the hopes of attracting said kids to the family Costa Rica home (the report is good for this strategy.)
Others have built a small villa on their large property that they can use in the interim years as a vacation home and then rent out when they aren't here. They will then live in the villa when the time comes to build the main house. Occupancy rates for vacation rentals were impressive.
One of the exceptions to the migrators was a client of mine that purchased a lot in Costa Verde Estates some 5 or 6 years back. He was an attorney in southern California and has now built, retired and moved to Costa Rica full time. He and his wife have been in-country now for about a year, and I have run into him once during that time (now twice.) When I commented on this, he said "I don't get out much. I have a hard time coming down from my perch and am really quite happy here." I didn't get much of a chance to talk with his wife aside from the hug greeting. But every time I looked her way she was smiling.
I don't know if this type of thing is of interest to my readers, but to me it was noteworthy. Could it be that we are at the threshold (read: tipping point) of rather large and rapid growth here? One gal mentioned that she was really excited to see what the next 10 years is going to bring.
I was encouraged by some of the good comments about this blog, thank you very much.
In my recent article on State of the Market, my year-end review and guesses for 2013, I state that this season may be the last time to take advantage of the residual effects from the recession on land prices here. Houses are selling, spanning price ranges from simple to luxury. The over $1,000,000 mark is now being hit with regularity. My guess is that the $400,000 range is the bread-basket. As I state in the above cited article, I believe it is a great time to buy a lot (raw land.)
Costa Verde Estates currently has 4 lots available for sale. I've got one as a re-sale. As fine homes and some small interim villas are going in there, the vision of Terry, the developer, is coming into focus, and it is a grand thing. The views rate a 10 on a global scale (I don't think they are topped anywhere. Maybe from the peak of Everest but, it's cold there and they don't get an ocean view :o), plus the quality of the infrastructure is the best in the area. Now we can add to this a "community" feel. Certainly nothing intrusive. These folks are here to quiet down. It is a formula that suggests that these four lots are not going to last.
I am available to show them as well if you drop me a line.
Finally, if you ever are lucky enough to be invited to a dinner by Richard & Debby, don't delay – accept! Richard is a phenomenon in the kitchen, Debby is the hostess with the mostess – and then there is that view…