The Guys just got themselves certified! Rod & I are now card carrying Costa Rica real estate agents. Imagine that.
I know – you're saying: "I didn't know that there was such a thing". Well, in fact there isn't, yet, but there is about to be, and so we have joined a number of our peers in anticipating the coming change to the U. S. (and elsewhere) model of licensing for real estate agents.
The organization is called CBR or "Camara de Bienes Raices" (Chamber of Real Estate). Perhaps you've seen the CBR logo around on various websites. You'll be seeing it on ours as well now. It is a 4 day course of 8 hours a day. We did it, enjoyed it (for the most part – butts are a little sore.), met & networked with lots of people and now feel just that much more entrenched with our chosen industry in Costa Rica.
CBR has proposed a law that they feel will become adopted this year of required licensing of Costa Rica real estate agents. Our position is that this will be yet another upgrade for the real estate industry. Many times has it been said that "everyone is a realtor in Costa Rica". This will change with this law, and in the process help to protect the interests of buyers and sellers alike.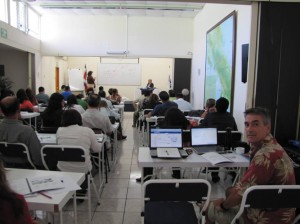 But that's not all. There's more.
This Friday Rod & I are going to be attending the first of several required courses being offered in Costa Rica's southern pacific zone for the newly formed, and widely embraced Costa Rica Multiple Listing Service (MLS). The service is privately owned and appears to be well funded and organized. I personally visited their offices in San José and got to see the workings there and was truly impressed. More on this as it develops but needless to say, us Guys are enjoying the spate of improvements to the real estate industry in Costa Rica.
About Trusts, or the lack thereof:
I spend a certain amount of my time in putting together hard money loans. There is a growing need for this service since credit is hard to come by in the current global economy.
My attorney has always advised my clients to use a Costa Rica mortgage for their loans, and so we have. I've heard the reasons for this position of his a number of times and would say that the benefits of a mortgage outweigh a trust, but only marginally. So, today I was working on a loan with a lender whose needs I felt would be better served with a trust. So I called my lawyer to ask that he set up the deal using a trust. He informed me that there are currently no trusts being formed in Costa Rica.
It turns out that in the car industry in Costa Rica, the trust has been used to avoid paying taxes on the sale of the car. So, the governmental agency called SUGEF, which is like the SEC in the States, says that, in order for any Grantor, or Custodian to be recognized by them as legitimate, the Grantor or Custodian must be registered in the National Registry, which now conveniently takes a prohibitively long time to happen. In other words, there aren't any officially recognized financial custodians to act as the necessary 3rd party in a trust. So, this leaves just leaves us with the mortgage in the loan business, which is fine with me anyway, but I found it interesting.
I'll post more about Costa Rica mortgages in a future article. It's a bit dry, but for those interested in using a Costa Rican mortgage, its a fascinating read. Click here for a Spanish language article that explains the law.
About reading stuff in Spanish on the web:
There is no reason to shy away from going to a Spanish language web page anymore, especially if it has information that you want. Google has got a great page translation function now. We have installed a translation widget on this site and the www.GuysInTheZone.com site as well. It makes translating the entire site a simple mouse click and takes just a few seconds. Amazing. I use Google "Chrome" browser and it asks me if I'd like to translate any non-English page for those websites that don't have one of the fancy translation widgets on them.
Anyway, ours is over there on the right of the page.
It doesn't always translate well. I found this translation kind of humorous from an article on the new traffic laws on that same site:
Much has been made of the famous law of traffic, however this IS NOT A NEW LAW transit, but a 7331 amendment to the Act, but appears to be confusion among the general population, be it drivers, pedestrians and transit authorities themselves . Just as this little-known offenses, I also penalize pedestrians for risky actions, but they have not received enough publicity. Doubt also exists about the application of certain sanctions for lack of regulation, as is the case of baby chairs. Would be prudent to count on the full text with the reform that is already built and to clarify to the people whether or not the promulgation of a regulation necessary to apply some sanctions. Many thanks.
Oh well, such services will serve to offer yet further motivation to learn Spanish.
By the way, I'm writing a series of articles that will help you to learn Spanish over at my Dominical website. Click here to view. There are just 2 articles there at the moment, but I'll be posting more progressively.