The Costanera Highway, The Caldera-San Jose Highway, The Cortez Hospital, The International Airport and The Diquis Hydroelectric Dam… it is easy to see that Costa Rica is serious about improving its infrastructure and securing a bright future.
Over the past decade, the dramatic increase in tourism and investment has sparked a bit of a power-struggle between proponents of economic growth and socio-environmental protection groups. In this case, the "power" is the proposed billion dollar hydroelectric project called "El Diquis" near Palmar in the Osa Peninsula. This isn't recent news, but I believe it is worth mentioning as it will affect life in various ways in the southern Pacific zone of Costa Rica.
The Zone Is HOT
This large-scale project, facilitated by I.C.E. (Instituto Costarricense de Electricidad), is calling for the construction of a dam on the Térraba River in the greater Boruca Canyon. The dam will create a lake equaling approximately 25,000 surface hectares (over 6 million acres), the largest of its kind in Central America.  By comparison, Lake Arenal is roughly 8,500 hectares.
This station will generate up to 630 megawatt units capable of providing over one million families with electricity!  This project is about Power, both electric and economic.  According to a Continuum report commissioned by the Costa Rican government, the plant will "increase Costa Rica's energy production capability by as much as 50%. For ICE, not only will the project satisfy national electrical demand, it will also stimulate economic growth, assist in the development of new technological corridors and new tourism projects, increase employment opportunities, and improve the quality of life for indigenous peoples living in Boruca area."[1]
The only problem is… the Boruca Indians aren't convinced.
The Cons
The fact is large-scale projects often come at a price beyond the colon, the currency used here in Costa Rica.  The long-lasting effects on the ecosystems along the Terraba River, namely the hundreds of acres of mangroves and sensitive wildlife ecosystems, will be significant.  How can the environment not be affected?  Plans for the project include– a concrete and steel dam measuring 170m tall by 600 meters wide, a 13-km tunnel (500 meters below the surface) from the new lake to turbines in Palmar, a 1-km bridge near the town of El Ceibo, the sub-stations, and many additional structures and buildings.
The impact on indigenous and non-indigenous residents will be significant, as well.  (For those of you who enjoy comprehensive reports, there are multiple documents online, including– this 11-page memo to AIDA and this 19-page United Nations document.) Links no longer available – sorry!  Being displaced from your home isn't a trival matter, and the 2,000-3,000 non-indigenous and indigenous people (Boruca Indians famous for the colorful wood-carved masks and handicrafts) have raised their collective voice thanks in large part to organizations, both inside and outside of Costa Rica.  If these indigenous and non-indigenous people are displaced from their land, how will their lives be affected?  How will they be compensated?
Interestingly, La Nacion just reported that the compensation package just hit a snag in 2010 which looks to temporarily push back the construction of the project[2].  I write "temporarily" because this project has the support of the Inter-American Development Bank (IDB), and the deep pockets of these financial institutions often inspire governments focus on large-$cale projects that support "social and economic development".  The La Nacion article explains, ICE "must expropriate 1,500 lots to build the hydroelectric power plant El Diquis in the south of the country.  ICE will have to disburse $60 million to purchase lots and relocate nearby populations. This accounts for 3% of the entire cost of the project, estimated at ($2 billion)." Even if the government writes all of those owners large checks for their land, it will take an extended period of time.
El Diquis will also contribute power to SIEPAC (Sistema de Interconexión Eléctrica de los Países de América Central) on the Central American electricity grid.  Once again, we see the fundamental struggle between economic progress and environmental protection in full effect.
Efficiency of Hydro Power
Before you flood ICE's main office in La Sabana with a fire-storm of email, I wanted to share a few things I discovered about hydroelectric power.  Did you know that hydroelectric power is one of the cleanest renewable energy sources produced?  It is considered renewable, because rainfall is consistent (The Hoover Dam in Nevada, notwithstanding).  Yes, there have been years when hydro-electric production was down due to limited rainfall, but drought years (e.g., 2008) are rare in Costa Rica.  According to the CIA Factbook, Costa Rica is producing over 81% of its electricity from 17 hydroelectric plants[3].  The country already exports 77.16 million kWh to neighboring Central American countries, and that number will jump dramatically if El Diquis comes online.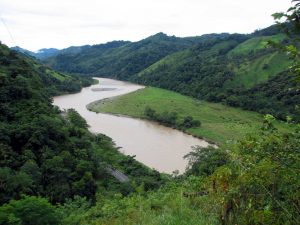 The Opportunity
Generally speaking, there is opportunity in advancement.  Yes, there is a financial opportunity for the Costa Rica government and the IDB.  Perhaps the most interesting aspects to this whole topic is how one of the primary expressed goals of the Costa Rican government and the IDB is to help the country out of its third world status.  They believe this is the way to help more of its people realize a higher standard of living.  Similarly, supporters of the indigenous people in the area, believe they are helping to preserve their quality of life.
As for the investment opportunity for residents and those interesting in buying property in the southern Pacific zone, a portion of the valley east of Palmar all the way to Buenos Aires will eventually be transformed into a giant lake.  Although I haven't heard of any specific developments planned for the new region, I'm sure there are business-minded people who understand the lakeside experience is indeed appealing.  There are still a lot of large pieces of real estate, ideal for community developments, in that region.
Many of us moved to Costa Rica to get away from the hyper-growth model that destroyed large and beautiful tracks of land in our home countries.  Some people protest, and some people profit.  Either way, projects like El Diquis Hydroelectric Dam and SIEPAC are proof that Costa Rica has set its course, moving forward.
---
[1] http://www.continuumbooks.com/books/detail.aspx?BookId=133873&SubjectId=1023&Subject2Id=1731
[2] http://www.nacion.com/2010-03-29/ElPais/FotoVideoDestacado/ElPais2311997.aspx
[3] https://www.cia.gov/library/publications/the-world-factbook/fields/2045.html