I've never had a year quite like 2010. Amazing, life altering, wonderful, scary and perplexing would be just a few of the descriptors that would sum this year up for me.
The Weather
At the start of the new year, we here in Costa Rica are still drying out from what has proved to be the rainiest "rainy" season in anyone's memory. Some say that the rains that accompanied Hurricane Thomas were the "100 Year Rains". No towns were washed away (that I know of), such as what happened to Portalon in '07, but there were some deaths and certainly quite a bit of damage. Some lost their homes, and others are having to move lots of dirt & rock that slid down onto their properties and into their homes. Roads were washed out, including the highway, south of Uvita. Trucks were backed up and the country was at a standstill for days.
The Economy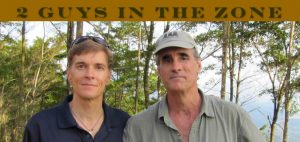 The word "recovery" has been used quite a bit with respect to the economy.  I don't benefit from a daily dose of media news coverage, so I'm never really all that sure of what the prevailing consensus is regarding the actual health of the economy, but from where I sit, it's difficult to see how there can be a genuine recovery when there exists an un-payable deficit of $13+ trillion dollars in the US alone.  This doesn't bring into account unemployment and the numerous other nations that are either belly up or very nearly so.
Real Estate
Having said that, we are definitely benefitting from "the recovery" in my Guys In The Zone real estate office in Uvita.  Business is brisk and folks are buying land & houses at a rate that can't be described as a boom, but it's a sight better than what we've seen over the past couple of years.
Explaining the Increase:
Much lower pricing on properties in Costa Rica's southern pacific zone
Improved access to the zone.  The coastal highway between Quepos & Dominical has certainly opened up the southern pacific zone as a vacation destination to more tourists.
Reduced quality of life "back home".  This can relate to: insecurity & concerns over the economy, un-payable taxes, health care, the year 2012, etc..
The desire to live life now, instead of waiting for perfect conditions at some undefined future time.
Whatever the explanation, there is certainly a new "type" of visitor, investor, re-locator to the zone. Point #2 has a lot to do with this.  Simply getting to the zone required a certain amount of hardiness and a sort of unique drive in the individuals that felt compelled to make the trek.  Now, with the completed Quepos to Dominical link, we are seeing a new flavor of human being here in the zone.
Personal
The year 2010 is going down in the journal of my life as The Year. It was a year of massive change and new experiences for this 51 year old, father of 3 (just when I thought I had seen it all).
I was very nearly killed, and as a direct result, I had an experience that has altered my views on life, God and to a very large degree, my fellow man/woman.
The account of my incident is fairly well documented, so I'll not go into the details of it again here.  Suffice it to say that, I chased a thief, got blindsided by a bat to the head, spent a month in the hospital (CIMA) where they at first didn't know if I was going to live. Then they didn't know if I was going to come back sane, or with all of my mental faculties.  Then when it appeared that I was going to recover most of my former self, the losses tallied were a blind left eye, an interesting affliction called adrenal fatigue, and a persistent numbness in my face and sinuses affecting my ability to taste & smell.  I am now back to work and for the most part, back in the swing of things.
Personal Changes
I used to think that I wasn't a judgmental person. For most of my life I have been known as a generally good natured fellow that looked for the good in people. I now feel a little different, thanks to this incident that so profoundly affected my 2010. To be the recipient of an across the board, around the globe concern, and the outpouring of love from all quarters, I came to realize just how judgmental I had actually been.  I now aspire to be truly non-judgmental.  What this looks like is based on the first hand experience that I have had with men & women both in the inner circle of my life, and extending out to beyond the periphery of my life, acting in ways that I now feel really show what most of us have inside of us.  I think that we all want so much to be needed, to live meaningful lives, and to really be of service to each other.  Modern life doesn't offer much opportunity to really feel needed and feel like we can make a difference.
My incident must have provided this sort of an opportunity, because the outpouring of support & love that I received, and the people that I received it from, made me really stop and re-think my viewpoint on humanity in general.
Now, going into 2011, when I have an encounter with someone, anyone, and I do my knee jerk assessment of that person (I think you know what I mean),  I now know that what I'm seeing is the thin wrapping that we all bundle ourselves up with as we present ourselves to each other in our day to day lives.  It's simply the way we want to be viewed by others.  But this has so very little to do with the core of the person, and how we/they will be when the chips are down.  We humans are quirky – and God love us.
As we start 2011, I wish to express to all those that contributed to my current level of health and well being, my profound, inexpressible appreciation and reciprocal love.  Your gifts to me have left me a changed man and I hope to be as generous and loving as you all, when I grow up.
Gifts
Donations that nearly paid $110,000 in medical bills.
Hours of much needed therapy & consultations for my diagnosed condition of PTSD (Post Traumatic Stress Disorder).
Massages
Chiropractic services
Meals
Music
Fund raising benefits in my honor
Lots of prayers, concern, visits and love
Invitations to speak of my experience to local groups
Have had people actually cross the street just to tell me they were concerned and how glad they are to see me up and about.
I have had some non-residents of the zone tell me that I must live in some kind of special community and that I must have some kind of special friends.
I am inclined to think so as well.  However, I wonder if maybe in reality it really isn't all so "special" or unusual.  Maybe this is what humanity really is.
I'm hoping so.