"Few people actually stumble into wealth."
– Smith Barney (although I couldn't determine if it was Mr. Smith or Mr. Barney?)
I outlined how million dollar houses fit into the Costa Rica real estate landscape, specifically in the southern Pacific zone (The Zone). There are a few obvious reasons to buy a luxury home in Costa Rica—
* It's A Buyer's Market (Prices are down approx. 50% from the peak in 2008.)
* Desirable Area (International Living Magazine rated The Zone as, "one of the top three real estate destinations in 2010.")
* Stable Prices For Construction Materials And Labor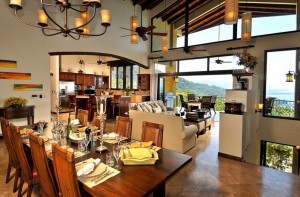 In Part One of this article,
The three-year Costa Rica real estate trend has reflected a significant drop in value, including property in the luxury home category.  Although there are some very nice million dollar homes in the area, this young market enables another popular strategy— Buy-And-Build.
Buy and Build
The majority of buyers who come down to the greater Dominical area with a plan to purchase a house, often end up purchasing raw land instead.  The reason is the area has a relatively small inventory of quality homes with floor plans and finishes that appeal to most North American and European home buyers.  So, they end up buy raw land or a lot in an established development, design their home with the help of a Costa Rican architect, select a builder, and then start the building process.
Some land buyers start building their dream home right away.  Others, like adults with school-aged children and/or couples near retirement age, tend to fall into what we call "the three to seven-year plan" of relocation.  Whatever the case, now is a great time to buy and build.  In addition to low land prices (up to 50% off from the peak), construction prices are now lower, as well.  This is part of the reason Costa Rican construction permits are up 63% from 2009.[1]
The next question we field "How much is it (per square foot) to build a luxury home in Costa Rica?"  Assuming pre-fab construction is out of the equation, the current price for custom concrete or hardwood construction (with permits, plans and finishes included) starts at around $120/sq. ft.  Build a 3,000 sq. ft. home and you are looking at around $360,000 before furniture and infinity swimming pool.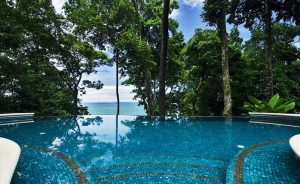 The View
If you want to build a million dollar home, you probably want to start with a "million dollar view".  This view usually involves the ocean, either with a sweeping vista or intimate setting above waves crashing on the rocky shoreline.  If you can hear the ocean, even better.  If you can hear the famous wildlife of Costa Rica (e.g., toucans, howler monkeys, etc.), even better.
Costa Verde is a gated community that offers spectacular ocean view properties high up in the mountains of Escaleras.  Whale's Tail Estates is another small development in the mountains of Uvita that offers stunning ocean and valley views plus easy access to waterfalls and pools.  There are estate property waiting for a creative owner with a taste for luxury.  If you are looking for a larger piece of paradise, there are many affordable fincas (meaning "farm" in Spanish) available at pre-boom prices.  Quality properties, like River Runs Through It, are now selling.
A Fraction Of A Million
For those of you who want the luxury lifestyle but do not have a seven-digit budget, fractional ownership might be the perfect option.  In fact, it is ideal for luxury-oriented people who love Costa Rica, but cannot or do not want to relocate here.  For those of you who are not familiar with fractional ownership it is similar to a time share, except it is a deeded piece of property with the benefits of ownership and appreciation.
Casa La Big Sur, a spectacular 6,150 sq. ft. estate on the front ridge of Escaleras, is one of the best examples of fractional ownership in The Zone.  This luxury home is ideal for working-class investors who are still in the two-week-vacation stage of their life.  Amazingly, you can own a 1/8th fraction of this $2.4 million dollar estate for only $395,000.
Whether you select one of the existing million dollar estates or buy land and build one yourself, Costa Rica real estate adds diversity to your portfolio and… to your life.
---