Pre-postscript:
This article will serve as an update to what is happening in the golf project San Buenas Golf Resort (SBGR) here in The Zone. Guys In The Zone is a real estate agency, now affiliated with Properties in Costa Rica. We make our money on commissions paid by sellers for sales that we broker. Buyers of land sometimes operate on the mistaken notion that if they go directly to the seller, they will get a lower price because of there not being a commission involved. Even though the price paid is the same either way. We are more than happy to assist you with your purchase of land in SBGR.

It could be that the San Buenas Golf Resort is heading for one of those "critical mass" experiences. The resort has been there, going through the Costa Rica labyrinth of disorganized bureaucracy for the past three and a half years.  As SBGR emerges, we see other such projects in Costa Rica languishing in the throes of various obstacles:
a global economic crisis
conflicting philosophies among founders
lack of funding
a nearly impossible Latin American permitting process
etc…
SBGR is fully permitted
For the thirty-some land owners in SBGR, who bought untitled land years ago, the titles are almost in. I know what you're thinking: "Haven't I heard this before?" Hmmmm, yes, I believe you have heard this before. So, we'll see. However, at this point, and this time around, all permissions, permits, signatures, departments, laundry lists and handshakes have been made, acquired, stamped and clamped. There is no logistical obstacle and they are now just simply waiting for the documents to be delivered. (UPDATE: Titles are in)
SBGR has not paid one colon/cent under the table to achieve its current fully permitted status.
I used to be a shareholder in SBGR and I used to sit on the board of directors there. All of that changed when the SBGR Corporation was unable to make its mortgage payments. Instead of folding and hurting all those who put their belief in the words of dealers (such as yours truly), and bought untitled land there, the shareholders got together and prioritized… -(now prepare yourself… we are talking here about behind the scenes corporate maneuverings, in an effort to make vast sums of money) – the well-being of those who had bought land in the project. The shareholders, at personal expense, allowed the project to go to the primary shareholder without a struggle. This primary shareholder, of his own volition, felt that it was important to protect the land owners there, that their ownership would be recognized and guaranteed.
I know, you're thinking that you have stumbled upon a science fiction account of life on another planet. But you haven't, and this is not. What you are reading is a firsthand account of my observations over the past 4 or so years. I am also one of those shareholders who lost in excess of $100k in the process (but who knows? The fat lady has not yet sung.)
My recent re-involvement in the project was inspired by one of our unexpected leads that came to us looking for a hotel plot. These prospective buyers really want to be able to offer golf to their guests as well. Their idea was to purchase a piece of land that would accommodate not only the horizontal hotel layout, but also nine holes of golf. There really is no such property left here in Costa Rica's southern pacific zone. Enter SBGR.
There is a piece of land in SBGR that is slated for a hotel. It has been thought that one of the big franchise hotel names might approach SBGR and ask if they can put one of their monolithic hotels on it. (This Costa Rica real estate blogger is hoping not, but that's just me putting in my unsolicited, tree hugging two cents.) Lord knows it would be a financial coup for SBGR. But in keeping with its surroundings, and even the design of the project, a more intimate layout of free standing bungalow villas sprinkled around a central restaurant / lobby would be more appropriate.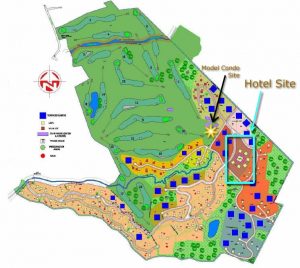 This all coincides nicely with what our European investor was/is looking for. His budget easily buys the land allotted for the hotel, valued at two million USD.
So, we'll see what happens with that deal. Presentations are being made in various offices in London and Malaga, and so we wait. The point, however, isn't to crow about The Guys good fortune to have such a prospect, (although we are certainly to be able to crow about such things.) But all of this is about re-connecting with this odd little golf project here in the nether reaches of Costa Rica's southern pacific zone.
Paspalum is a fancy name for grass
The place is beautiful. The existing nine holes roll around gorgeous Costa Rican trees and fauna, and are vibrant with an amazing array of birds and, well, life. Look anywhere on the course and you feel like you are observing a contrived setting, staged for some international golf magazine, complete with white sand bunkers.
The paspalum grass is a marvel. I witnessed a small tractor pulling a liquid tank that was spraying a fairway. Expecting to be told that this was an herbicide, or some such chemical, I was told that it was salt water. Weeds die in a saline environment, Paspalum thrives. Hmmm, can we use the overused "green" handle here? If so, I imagine myself making a presentation there, standing alongside one of the holes, able to say "and this is a truly green green" – get it? Ok, I know. I should apologize – but really, what is the point of being alive if we aren't going to live, verdad?
So the weeds are handled without chemicals, what about fertilizing and bugs? Enter the ultra-acid soil of Costa Rica. The antidote is lime, or calcium. Mix this into the soil and you manage your PH, while driving off any pests. The little blighters thrive in acid but not in a balanced PH environment. So yes, I believe we can call this project green.
As for the Critical Mass mentioned at the outset, I just wonder if, as the SBGR folks quietly go about their business out there, if one day the world doesn't wake up and there is a mad dash to be part of this amazing project. They've got a show condo – 2 bedrooms, granite counter tops, all teak wood ceilings, cabinets and furniture for $219,000 – a price that would have been impossible to believe prior to the economic tumble.
I suppose this could come to be viewed as the upside of the downtime – (OK – sorry about that one. 🙂