There is a rather interesting article over there on that good ole U. S. icon, The Wall Street Journal. From where I sit, living as an expat in Costa Rica since 1999, I found the article, written by Vicki Berrong, a good read, and the comments at the end quite enjoyable as well. However, as with all things human, the article presents lots of opportunity for criticism and opinion, which I more than happily engage in here.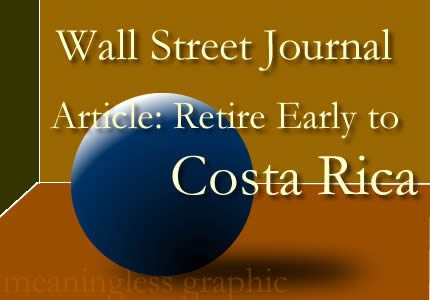 Perfect Profile of a Costa Rica Real Estate Prospect
How I came to live on the Pacific coast of Costa Rica is a story about early retirement, tight budgets and lots of planning.
Because of being a long time expat, living in Uvita, and working in real estate, I talk almost on a daily basis with such people who want to know how to chart their course so that they can avoid as many rocks below the surface as possible.
I've copied some parts of the article here, and I'll make comments on these points, but I encourage you give it a read in its entirety by clicking here. Even the title I find to be right on the mark: "Best Place to Retire Early" typifies so many folk that we talk with these days.  However, early retirement brings along with it the need to generate a bit of income in your new land of residence, which is a common aspect of our Costa Rica real estate consultations.

My best friend, Carol, and I began thinking seriously about retirement roughly 12 years ago. We knew we wanted to retire early, but we recognized that our small nest eggs (and the fact that Medicare doesn't kick in until age 65) could make that difficult. Eventually, we concluded that living outside the U.S. would allow us to stretch our dollars and retire on (our) schedule. Thus was born a 10-year plan: five years to pay down as much debt as possible, and five years to find a home overseas.
What Vicki describes here is a perfect profile of visitors to our Uvita real estate office – I'd say realistically we talk with 3 – 5 of such individuals and couples a week. Please keep in mind that we are just now emerging out of rainy season here in Costa Rica which is typically a slower time of year as regards the number of visitors, so this number could easily go up now that we are in a busier time of year.
Besides enjoying reading Vicki's experience in the article, I really enjoyed the comments that can be seen at the bottom of the article. I'll address those at the bottom of this article.
How Big is Costa Rica Really?
After a total of seven trips to this small country (about the size of New Hampshire and Vermont combined, with a population of about 4.6 million), we found "home"
OK, so I've got a bit of egg on my face. As an authority on the matter of moving to Costa Rica, I have quoted this point VERY differently, and done so numerous times over the years, no doubt to many of the readers of this blog. I haven't searched it, but I suspect that even in this blog there are examples of my erroneous comparisons of Costa Rica being the same size as Rhode Island or that you can fit six Costa Rica's into Colorado.
I did some research based on Vicki's declaration and here's what I came up with, establishing that Vicki was spot on with her analogy and I was WAY off with my Rhode Island comparison, but somewhat vindicated with the nearness of my Colorado comparison.
Size of Costa Rica: 19,730 sq. miles

Size of Vermont: 9,622.8 sq. miles

Size of New Hampshire: 9,350 sq. miles

Size of Colorado: 104,185 sq. miles

Size of Rhode Island: 1,213.9 sq. miles
Costa Rica Prices & Costa Rica Coffee
a cost of living at least 50% lower than in the U.S.—and good coffee
I'm not so sure about this cost of living comment. Maybe when all is said and done, it tallies up to this percentage of difference… maybe.
Us Guys talk all day long with folks who are wanting to relocate to our area. We have a certain amount of obligation to make sure that the old image of Costa Rica, which was certainly accurate at that time, needs to be re-adjusted in the current time that we are living in. Costa Rica is no longer an inexpensive place to live.
I got a kick out of Vicki's $16.00 per gallon of gas statement – obviously a goof (unless that's what gas costs in Playa Naranjo.  Frankly, I wouldn't know). We are running at a little over $5.00, but some of the other costs are much higher here, namely vital staples like peanut butter and cheddar cheese – well any cheese for that matter.
About Costa Rican coffee – AWESOME! It is the best, and it's cheap. You can pay buckets of cash for some of the marketed Jamaican Blue Mountain or Kona Gold, or whatever, or you can upgrade to a finer taste and gentler effect to the body by buying whatever, rot-gut, off-the-shelf, grocery store brand of Costa Rican coffee you like. When I visit the States, I bring coffee with me for the visit, or look for the Costa Rican blends in the health food stores there, where they charge a premium for the stuff.
I do tend to run on about things. So I guess what had started as an article commenting on a Wall Street Journal article abut buying land and living in Costa Rica is turning into a series.
In the next article I will comment on a few more points in Vicki's article, but I'm REALLY looking forward to getting into the submitted comments on the article.
Stay tuned.