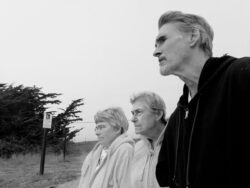 I was living in Playa Hermosa, just north of Uvita and working in real estate that was quite active in the zone between Ojochal and Quepos/Manuel Antonio. I worked in the Zone in real estate for about 15 years. I left this Costa Rica chapter of my life due to the premature and unexpected death of my brother. My sister called and said that something weird was going on with him. He was in ICU with a so-far, un-diagnosed brain ailment. She said that I needed to get up there pronto, which I did.
5 weeks later he died. During those weeks it became eminently clear that, should brother die, I would be needed in the care of Mama. Such is life, verdad? Unexpected course changes. We strap in and take it as it comes.
Caring for Mama was a high point in my life. I have no regrets about anything connected with the decision to move back. I enjoyed the best times I've ever had with my Mama. And this wasn't due to her being an especially nice person. You care-givers out there likely know what I'm talking about.
Then, covid set in and caring for Mama became quite difficult. However, I continued going to the wonderful, old-folks home where, prior to covid, she had enjoyed some of the most delightfully social times of her life. Once the covid set in, she was shut in to her apartment. As were all the other elderly people. I not only witnessed it in my mother, I heard from family members of other elderly residents that the lockdown, shut-in, whatever you want to call it, was causing a steep slide of cognitive decline in many of the old folks.
My sister had the opportunity to talk with the proprietress of a local funeral parlor. She said "you all must be busy here due to covid", to which the proprietress responded – "yes, we are busy, but it's not from covid, it is old people dying of loneliness".
Daily, I would sit outside Mom's room in a folding camp chair. She would come out to her balcony on the 2nd floor. So we essentially had a circumstantial enforcement of the 6 feet distancing protocol. I personally witnessed this protocol to be much more damaging than the threat of the virus. I know. I can get into trouble with those words but at least you, dear reader, can trust that I truly believe them (the words) to be true.
Mom and I would do exercises, converse and do a form of Sudoku that I had elaborated in such a way that we could play it together. Mama had a light case of dementia which made such things a challenge, but we did them and it was pretty darn cool.
My sister and I noticed that, despite our efforts, Mama was declining in her dementia rapidly. This is to say, she was getting worse quickly. I tried negotiating with the powers that be at the home to allow a full-time caregiver to be with Mom during the day, but they just wanted to put Mama in the Memory Unit. They allowed this for some of the other residents. I think that they were either punishing me for not just blindly doing what they thought was best or, they wanted to try and force me to allow them to put Mom into the Memory Unit. To go from independent living to the Memory Unit is quite a big step. My sister and I felt that there should be an intermediate step between the two extremes. But, they held firm to their position and so did we. Meanwhile, our continued inability to be with Mama physically, was clearly taking its toll.
So, with much luck involved, we were able to move her to a wonderful place out in the country that was run by a Mexican woman who was born to give such care. We could actually be physically with Mom and live her final days by her side. Fantastic stuff. Oh and Gloria, the namesake of the place was also an extraordinary cook, and, she was quite free with the invitations to stay and eat. As far as pandemics go, we feel that we did alright getting through this last one.
So, when Mama died of heart failure, my sister and I looked at each other with a "what now" kind of look. We decided to take a year and let the dust settle. Having the matriarch of the family pass on had an impact on us that one can only understand when one has lived it. Mama was also the last one of that generation, effectively promoting me and sis to the respective patriarchal and matriarchal positions in the family.
Having all of this transpire with the amazing events caused by the efforts to manage a pandemic: lock-downs, masking, distancing, no school, no church, no travels, etc… The world truly had gone crazy.
I was in California which was one of the States with the strongest response to the pandemic and its connected protocols. Since I had moved back to the States in early 2019, not long prior to the pandemic, I had rather enjoyed being back in my home-land after so many years of being in Costa Rica. I had actually thought for a while that I might just ought to stay put and make a new life there in the States. Evidently, the fact that I'm writing this from Costa Rica indicates that I chose not to do so.
Now, I can't imagine that this is the most interesting thing to read out here on the Internet but, if you've gotten this far, please check back in a week or two as I will continue the saga.