Please see part 1 if you haven't already.
My e-mail inbox, and Facebook, and LinkedIn messages, repeatedly urged me to go to the Wall Street Journal to read this article. It appears that my friends know my interests.
I spend much of my days talking with people who are interested in making Costa Rica their home. Real estate occupies a fundamental place in this decision hence, the referrals to this article, written by a couple of 60-some gals that relocated to Playa Naranjo on the Gulf of Nicoya, 5 hours north of where I live in Uvita Costa Rica.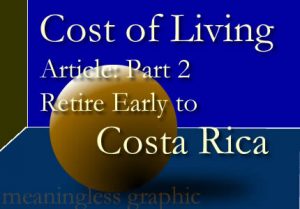 Cost of Living in Costa Rica
In detailing out living expenses here, the author (Vicki) says that she has cut her living expenses in half:
We spend about $50 a week on food (for two people). Native fare is rice and beans (about $2 for about two pounds), potatoes, yucca, onions, red peppers and carrots (about 25 cents each). For $1 you can buy three cantaloupes, or two avocados, or four mangos, or three oranges (in season), a watermelon, or a whole pineapple and enough fish to feed two. Two pounds of ground beef (86% lean) or boneless chicken cost about $4. On occasion, I'll splurge, paying about $6 for a bag of Cheetos or miniature chocolates.
I am one of those guys that doesn't pay much attention to what stuff costs at the grocery store. This is not due to vast wealth, although I suspect that the wealthy are among the most vigilant of such things. That is likely one of the reasons why they are wealthy.
What I do pay attention to is when something is outrageously expensive, like walnuts, and cheese. Peanut butter is prohibitive and only the not-good-for-you-hydrogenated-oils-added type is available anyway. This is a bummer for those of us that thrive on peanut butter on bananas. Here we live where bananas grow like weeds, and there isn't a decent source for quality peanut butter. Give me a break! Such are the ironies of life.
So, I'll go with Vickie's report on the costs of various staples.
Housing prices are off their highs of two or three years ago. You can buy a nice two-bedroom home on about an acre of land for between $100,000 and $300,000. My utility bill is $50 to $150 a month, depending on how much I use the air conditioning. My property tax last year was under $100.
You can get a good idea of housing prices in The Zone by looking around this blog. It would seem that houses are a bit less expensive in Playa Naranjo if Vicki has her numbers right. Although, maybe not. I understand that up north there are lots of small, 1/4 acre, piano key style housing developments. Since we don't have this type of property here, we are not comparing mangoes with mangoes. Most lot sizes here are multi-acres and have ocean views.
Having said that, we do have one house that is actually quite nice starting out our housing options at $150,000.
Uvita Ocean View Cabin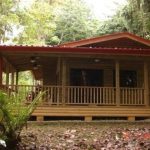 2 bedroom, 2 bath, ocean view, wood constructed cabin in Uvita. Price just reduced to $150,000.
This is a bit of an anomaly. I would typify our house options as starting at around the $250,000 – $300,000 range, and go up from there.
Expense: Electricity – Pools and Air Conditioning
So much depends on how you want to live. I don't have air conditioning, but I find that a pool is nearly indispensable here in Costa Rica.
Electricity is expensive here. As with so many things here in Costa Rica, the powers that be are saddled with the challenge of two extremely different economic strata living together in one country. There is a graduated use scale for billing electricity consumption. They seem to have done a pretty good job of determining how to really nail the primary consumers and leave the simple, non-consuming farmers alone.
Unfortunately, the high cost of "luz" as electricity is called in Costa Rica, affects the price of food. The cost of running all those refrigeration boxes in a grocery store is the primary expense of running such a business and affects the price on the non-refrigerated peanut butter, which is the real tragedy of this story.
There are a number of different strategies for dealing with the high cost of electricity here in Costa Rica. One couple I know feel that there is a time of day, when the demand is low, when you get more kilowatt bang for the buck. So they set up to do their laundry in the wee hours of the morning. Others say that this is simply not true and that there is no timing involved with the billing of electricity.
On properties where there is more than one structure, like a main house with a guest house, you can run two meters, one for each building. This helps economize on the scaled, consumption based billing of ICE (EE-say, not ice) the electric company.
Pools, refrigerators and air conditioning are the primary contenders for causing a shock with the monthly electric bill. One trick that I learned from a veteran expat pool owner, is to ignore the traditional pool care procedures and instead do this.
Run your filter for a couple hours a day only. This will obviously cut down on electrical consumption. However, the thought is that you need to filter all of your water, once a day. So, you calculate the amount of water you've got, with the amount of water that your filter filters per hour, and you'll likely come up with the need to run your filter for 4 hours.
Well, ignore that.
Go with the two hours. Use your tester to make sure that you always have the right amount of chlorine in your pool. I switched from a salt pool over to chlorine for economic reasons, so I'm not talking here about salt. You've got to run the filter to get the salt/chlorine conversion, and that requires longer runs of the filter, which makes economizing on electricity difficult if not impossible.
When the 2 hour cycle starts, gradually pour a half cup to a cup of granulated chlorine into your pool's skimmer. I have gone for months with this program with no problem. We do, on occasion have problems, but not any more than the normal amount for pool owners, and our electricity bills went down.
Disclaimer: I am no pool expert. We have had problems now that have required professional help to clear up, but I think that most people with pools have such concerns, even when they are doing the conventional, electricity-gobbling pool care system. Also, if you decide you want to try this program, really keep an eye on your pool. Learn how to use additives like "Shock" and "PH" powders. If you see any discoloration in your tile or grout, you've probably got algae. Get rid of it. I use a steel brush and swim around with a mask and snorkel prowling for any irregularities.
My but I do carry on. There is so much more to say on this topic of retiring to Costa Rica.
Gratuitous use of my primary search term for Google purposes: Costa Rica Real Estate
More Retire Early to Costa Rica coming soon.