I sold my house in San Isidro. I got a decent price for it. I followed my own counsel and did seller financing and it has turned out to be one of the "good" business transactions in my business life. I'll write about the construct of the deal at some point. In the meantime I am available to respond to any questions about selling property in Costa Rica with seller financing.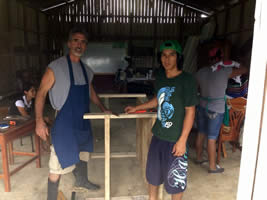 The point I'm getting to with this article is that I now, for the first time in years, don't own any property, and it is a strange feeling. I rent. Not only that, but I am renting a house in a small Tico community where no English is spoken, and some of my neighbors can't read. We are talking "simple" living here.
On Saturday a couple of weeks back, my landlord (who by the way is the best landlord in the world – he maintains my yard and responds immediately to any problems, though few, that I may have with the house), he says to me: "there is going to be a talk on hydroponic gardening at the Salon Communal on Tuesday, you ought to come."
I have always been curious about hydroponics, although nothing too dramatic. I can make that statement about lots of topics in my life, like how to knit and so on. I like this topic since it results in homegrown food. One of my interests in life is in reducing, and eventually eliminating, my dependency on the grocery store. (I've got a chicken coup and am the proud owner of a goat, with the prospect of goat cheese on the horizon.)
So I went.
This turned out to not be a "talk" on hydroponics as stated. This was an enrollment in a course on hydroponics, put on by the government agency INA. This was a full-blown certification course on hydroponics that would run for about 3 weeks, 2:30 – 6:00 Tuesday through Friday. Most of the worker Ticos work until 2:00 and so this was the schedule.
Well, I didn't have that kind of time to dedicate to one of my many curiosities, but I went ahead and sat through the presentation regardless.
I was impressed.
INA stands for Instituto Nacional del Aprendizaje or National Institute for Learning. I had heard of it but hadn't paid much attention to it. For many of us here in Costa Rica's southern pacific zone, we marvel at the hub-bub made in Costa Rica information books and websites about the high level of education in Costa Rica. We simply don't see it.
This course stands in stark contrast with that observation.
The course was being offered free, totally government sponsored.  But you had to be a resident. I had to provide a copy of my residency cedula, as well as fill out a form with all my information in it, all of which intrigued me that this course was something authentic. I jumped through the various hoops thinking that I would probably pull out at some point. Long story short, I didn't – I did the course, and in fact, am doing it.
This coming Tuesday is the final class and I will there receive my title as a certified hydroponist (my spell-check says this isn't a word – hydroponicist? hydroponics-meister? well… you get the point). How 'bout that? I now have a new passion in my life here in Costa Rica.
The course has been excellent.
I am enjoying this rather unique experience of reporting on a government program that is, simply put, quite good.
The teacher's name is Miriam. She has been teaching hydroponics for INA for 16 years. I've never been to Harvard, but as the eminent standard for good education, I would be surprised if there is a higher quality professor of anything there. She is engaging, and extremely knowledgeable about all aspects of gardening, soil chemistry, bugs, insects, fungi etc…
Miriam is the author of a book on hydroponics and she feels that she's got a dream life. She travels around to remote parts of Costa Rica, teaching people how they can improve their lives by means of cultivating foods that are high in nutrition, and that can be used as a supplemental, or even a primary source of income.
I find it interesting that when I mention to an expat here that I am studying hydroponics – everything from hydroponic science, to green house construction, to substrate composition etc… the expat will say, "would you mind coming over and sharing what you've learned with my family? Maybe help us get setup?"
So, in answering the question: "what are we doing here in Costa Rica?", I would say that the search for a healthy diet, and being more involved in the process, factors into the answer for many who live here.
Here are some photos of the class.
[nggallery id=6]