Rod & I have decided to write a few words about the year just past. We did so without consulting each other or giving any clues regarding what we've written.
First off is Rod
If you subscribe to the idea that life is a series of ups and downs, then last year was a harsh reminder of how challenging the "downs" can be.
"Unemployment soars to highest level in 16 years." – New York Times
"U.S. Foreclosures to Reach Record 3.9 Million in 2009." – Bloomberg.com
"New car sales a 'disaster,' says Sergio Marchionne, CEO of Chrysler/Fiat." – NY Daily News
While people were losing their jobs and houses in record numbers,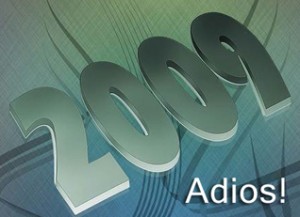 they still had the time and interest to search for Britney Spears and WWE (World Wrestling Entertainment, which is fake wrestling, right?) making them the top two search terms on Yahoo! for 2009.
Although I have no idea what Britney was up to in 2009, I do know that most of us here in Costa Rica felt the impact of this economic downturn. After a decent start to sales in January and February, most real estate companies saw offers dry up during the following 8 months.
Like many people around the world, the Guys In The Zone shifted gears to "beans & rice mode" (luckily, we both like beans and rice). We tightened up the expenditures and found new streams of income. [Ben deserves some kudos here for his quick mastery of the hard money lending business. He, (leveraging his experience, contacts, and bilingual-ness) saved more than a few local families from economic disaster. This lending experience taught us that putting good food on the table is important, but to literally save someone's table (and house it sits in) from foreclosure is a genuinely rewarding experience.] While we didn't sell any property during the middle of the year, we did put a lot of time and energy into new listings, our websites, and the Talk Show feature which we will continue to work on in 2010. Ben also started writing articles for Montana al Mar, a new monthly magazine focused on health, sustainability, and community.
The old adage "When you love what you do, the money will follow" proved true in 2009. The end of the year found activity picking up noticeably. Three excellent deals