"Few people actually stumble into wealth."
– Smith Barney (although I couldn't determine if it was Mr. Smith or Mr. Barney?)
I outlined how million dollar houses fit into the Costa Rica real estate landscape, specifically in the southern Pacific zone (The Zone). There are a few obvious reasons to buy a luxury home in Costa Rica—
* It's A Buyer's Market (Prices are down approx. 50% from the peak in 2008.)
* Desirable Area (International Living Magazine rated The Zone as, "one of the top three real estate destinations in 2010.")
* Stable Prices For Construction Materials And Labor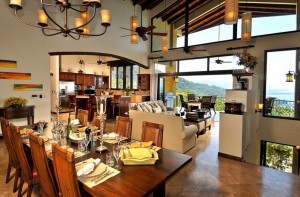 In Part One of this article,
The three-year Costa Rica real estate trend has reflected a significant drop in value, including property in the luxury home category.  Although there are some very nice million dollar homes in the area, this young market enables another popular strategy— Buy-And-Build.
Buy and Build
The majority of buyers who come down to the greater Dominical area with a plan to purchase a house, often end up purchasing raw land instead.  The reason is the area has a relatively small inventory of quality homes with floor plans and finishes that appeal to most North American and European home buyers.  So, they end up buy raw land or a lot in an established development, design their home with the help of a Costa Rican architect, select a builder, and then start the building process.